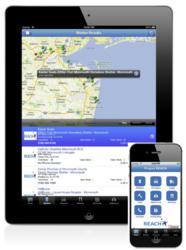 Based on the user's location, Qbase Homeless Reach provides real-time access to local services and resources for the homeless directly from mobile devices or the web," says Josh Temkin, VP of Healthcare at Qbase
Reston, VA (PRWEB) June 18, 2012
Qbase, LLC proudly announces that the Department of Veterans Affairs (VA) has selected the Qbase Homeless Reach mobile application as one of its five finalists for the Project REACH (Real-time Electronic Access for Caregivers and the Homeless) initiative. Project REACH – a collaborative effort between the VA, Department of Housing and Urban Development (HUD), Department of Health and Human Services (HHS), and the Jon Bon Jovi Soul Foundation - is dedicated to securing a real-time, mobile application that can simplify access to locality-based information, services, and resources for the homeless and the caregivers and caseworkers who serve them.
"Qbase is excited and honored to be chosen as a finalist for Project REACH. We are pleased to have the opportunity to apply our deep technical knowledge in data aggregation and geocoding in creative ways to aid our nation's homeless population," says Josh Temkin, Vice President of Healthcare at Qbase. "Based on the user's location, Homeless Reach provides access to real-time and current information about local services and resources for the homeless directly from mobile devices or the web," Temkin continued.
Qbase Homeless Reach provides software applications which are accessible on the web, smart phones and tablet devices. It is a flexible solution that will enable the people who help the homeless to quickly and easily find essential services within their proximity. The initial application has imported and geoencoded over 30,000 distinct points of interest including locations for shelters, facilities, healthcare, mental healthcare, kitchens and food banks, legal services, and transportation services.
Reflecting on the announcement, Qbase Senior Vice President Gary Sofo added, "The entire Qbase organization is honored to be chosen by the VA to support their efforts to seek innovative ways to battle the homeless epidemic, not only for our Veterans, but for our nation. We will not only commit our leading technologists and technologies to develop and deliver Project REACH with a free, easy-to-use, and broadly accessible mobile application, but will also continue to donate all award monies received from the Project REACH competition to Wounded Warrior charities."
During the announcement of the five finalists on June 5, 2012 at the Health Data Initiative Forum in Washington, D.C., sponsored by the HHS, Qbase announced plans to donate their $10,000 finalist award to the Wounded EOD Warrior Foundation and the EOD Memorial Foundation in memory of LT Christopher E. Mosko, a fallen US veteran. In honor of he, and so many others fallen military heroes, Qbase will also be donating any forthcoming award money from the Project REACH competition.
As stated by Secretary of Veterans Affairs Eric K. Shinseki in their 5 June 2012 press release, "To achieve our goal to end Veteran homelessness, it is vitally important that we capitalize on innovative ideas from the public and private sector. The developer community has responded quickly and creatively to harness technology to meet the needs of homeless Veterans and their providers. I am grateful for their hard work on behalf of the Nation's homeless Veterans."
About Qbase, LLC
Qbase, LLC is a worldwide provider of innovative decision support technologies and information technology professional services to support the mission-critical operations of our clients.