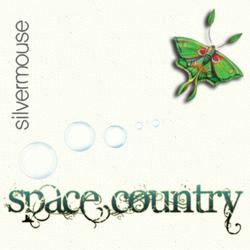 You'll feel like you know these songs in what can only be described as a primitive and evolutionarily ingrained sense of rhythm and beats.
Ojo Sarco, NM (PRWEB) June 15, 2012
If you want to hear some hot new music, check out Space Country. Silvermouse's latest release, this album is a collection of tracks that have been honed on tour over the last couple of years and are finally being released as an album. In keeping with Silvermouse's philosophy that their album formats should remain true to the live experience, the album is an edited version of a live set recorded at an intimate gathering at the Kosmic Trading Post in Albuquerque, NM.
The growth from their first album (the self titled "Silvermouse") is immediately apparent. The beats are thicker, more progressive, and constantly evolving, and the integration of the rhythm and instrumental work is as tight as ever. Miss Jojo forms the backbone of the sound with her live mixing and creation of beats that have moved towards an ever more organic sound, while Justin Handley weaves into the complex soundscapes with a stable of stringed instruments as well as some beautiful work on flute.
The electro-acoustic genre has been steadily growing over the last couple of years, and Silvermouse is playing a significant part in the evolution of a new style and sound.
Alex DeVore from the Santa Fe Reporter describes Silvermouse's music:
"[Silvermouse] utilizes off-kilter beats and psychedelia to produce highly danceable music that will keep you guessing… you'll feel like you know these songs in what can only be described as a primitive and evolutionarily ingrained sense of rhythm and beats…you'll be humming the group's tunes for days, wondering how music can be this good and why you didn't know about Silvermouse sooner."
In order to make sure that everyone can hear their music, Silvermouse is putting audience above profits and making the album available by donation - anyone can download, and those who feel moved to can make a donation. To learn more about the album and listen to some hot new music, check out their website at SilvermouseLive.com/hot-new-music