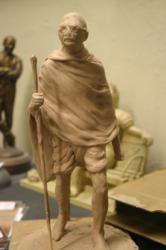 "The statue will be accompanied by a garden including symbolic stepping stones and is set to be unveiled on October 2, Gandhi's Birthday, Kuttiyani said."
Provo, UT (PRWEB) June 17, 2012
The bronze statue of Mahatma Gandhi is set to be centered in Falcon's Lea Park in South Florida as a reminder of the widespread ideals of peace and tolerance, said Joy Kuttiyani, President of the Kerala Samajam of South Florida.
"The statue will be accompanied by a garden including symbolic stepping stones and is set to be unveiled on October 2, Gandhi's Birthday, Kuttiyani said."
The location of the sculpture is home to roughly 43,000 people of Indian descent who host, among other events, an annual Indian festival to celebrate culture and tradition in their community.
The city of Davie, South Florida, was chosen to host the sculpture for its efforts to embrace cultural diversity, said Kuttiyani, a Davie resident and member of the town's Parks and Recreation Advisory Board.
Big Statues, located in Provo, Utah, serves clients across the country, and is honored to be able to create such a noteworthy piece of art that can be appreciated for years to come.
With every piece of art, bronze sculptor Matt Glenn of Big Statues takes special care to recreate the individual spirit of a company and turns it into a tangible figure with amazing custom detail that can be appreciate by all.
###