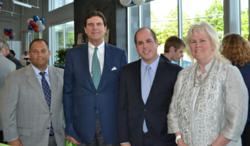 "We hope that our new dealership will serve as the model which inspires other businesses throughout our region to explore environmentally-friendly options for the workplace."
Westchester County, N.Y. (PRWEB) June 18, 2012
More than 150 guests including family, friends and dignitaries were in attendance at the Curry Subaru-Hyundai in Cortlandt Manor for the recent grand opening of its state-of-the-art, 30,000 sq. ft. LEED®-Registered (Leadership in Energy & Environmental Design) automobiledealership, making it the area's first 'green' dealership.
Project partners including Architectural Visions, PLLC of Mahopac, N.Y., GTL Construction, LLC of White Plains, N.Y., and OLA Consulting Engineers, PC of Hawthorne, N.Y., were on hand to celebrate the new showroom.
Every aspect of the Curry Subaru-Hyundai dealership was planned in an environmentally-conscious manner, from the dealership's location near area bus routes to the selection of local consultants, contractors, and materials. Among the significant features of the building are:

Light-colored high-reflectivity roofing to reduce urban heat island effect
Bio-based spray foam roof insulation for greater insulating value and minimizing air infiltration
Insulation and high-performance glass to reduce stress on HVAC systems and allow for smaller systems
Energy-efficient interior lighting systems to cut electricity costs
Use of recycled and locally harvested construction materials
Native, local, and water-efficient landscaping to protect the local eco system from invasive plant species and conserve drinking water normally used for irrigation
Outdoor lighting to minimize light pollution beyond the property line onto adjacent residential areas
Construction waste management plan to harvest construction waste for reuse or recycling
"Our primary goal at the beginning of this project was simply to install solar panels, but once we realized the positive impact that we could make on the environment and the community, we dedicated our resources and effort toward developing a LEED®-Registered showroom," explained Curry's Chief Operations Officer, Bob Carinci. "We hope that our new dealership will serve as the model which inspires other businesses throughout our region to explore environmentally-friendly options for the workplace."
As part of Curry Automotive's growth, they intend to build a second LEED®-Registered showroom in the Town of Cortlandt later this year. "We look to create a sustainable, healthy and comfortable environment for both customers and employees," said Bernard F. Curry, CEO/Owner, Curry Automotive.
As part of Curry Subaru-Hyundai's grand opening, the dealership donated a vehicle to Westchester Children's Museum, a cause for which the Curry Automotive Group has long been an advocate. The donation was made as a public show of support for the museum's environmental educational initiatives as part of its Museum Without Walls outreach program, which has served more than 6,000 children in over 40 community centers throughout our region since March 2010.
"Museum Without Walls reaches a critical segment of our region's youth," said Tracy Kay, Executive Director, Westchester Children's Museum. "These children are often the ones most impacted by declining school budgets, which have eliminated many out-of-school enrichment programs. We are extremely grateful to Curry Automotive for generously donating this vehicle, which will allow is to reach even more deserving children with programming that inspires discovery and a lasting love for learning."
Curry Subaru-Hyundai is located at 3040 Cortlandt Boulevard (rt 6) in Cortlandt Manor, N.Y., 10567. For additional information, please visit http://www.currysubaru.com, http://www.curryhyundai.com or call 914-930-3800.
About Curry Subaru-Hyundai (http://www.curryhyundai.com)
Curry Subaru-Hyundai is part of Curry Automotive, which was established in 1919 and serves New York City, Westchester, Putnam and Dutchess Counties, Atlanta, GA, and western Massachusetts, selling new, certified and used cars, trucks and SUVs for Acura, Chevrolet, Honda, Hyundai, Nissan, Scion, Subaru, and Toyota. Its current CEO, Bernard F. Curry, is a third generation owner.
About Westchester Children's Museum (http://www.discoverwcm.org)
Westchester Children's Museum (WCM) will be a learning laboratory providing children, families, and school groups throughout Westchester County and the surrounding region with the opportunity to nurture curiosity, enhance knowledge, and ignite imagination through hands-on exploration. The Westchester County Board of Legislators recently granted WCM a home at the historic Rye Playland North Bathhouse, where families will learn and explore through state-of-the-art exhibits. Until its physical home is built, WCM is dedicated to fulfilling its educational mission through its Museum Without Walls program, which has brought hands-on educational programs to nearly 7,000 children since launching in March 2010.
Contact:
Brittany Hohl
Co-Communications, Inc.
914-666-0066
bhohl(at)cocommunications(dot)com