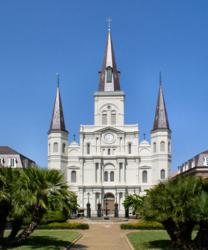 New Orleans is a great bargain," said Mark Romig, President and CEO of the New Orleans Tourism and Marketing Corporation. "Not only is the price point right, but you get an authentic experience found nowhere else in America."
New Orleans, LA (PRWEB) June 17, 2012
This is the second year TripIndex has named the south as the top region for travelers looking for deals. New Orleans scored in the top four of the ten most affordable U.S. destinations, along with Dallas, Atlanta, and Orlando. Based on a night's stay, dinner for two, drinks, and a taxi ride, the four cities averaged between $283 and $309.
"We have long known that New Orleans is a great bargain," said Mark Romig, President and CEO of the New Orleans Tourism and Marketing Corporation. "Not only is the price point right, but you get an authentic experience found nowhere else in America."
The U.S. list comprises 15 popular, editorially selected U.S. cities, focusing on large and popular tourism markets in the U.S. International destinations were also measured. An illustrated graph is attached.
"New Orleans is both an affordable and attractive destination," said Stephen Perry, President and CEO of the New Orleans CVB. "Our city exposes business and leisure travelers alike to our culturally- significant dining, music and nightlife experiences all while providing the practicality of budget-friendly travel."
TripIndex priced out the following items in each destination to represent the cost of an evening out for two people:

One night's accommodation in a four-star hotel (based on one room, two people sharing)
Cocktails for two people
Dinner for two (two courses and a bottle of house wine)
Return taxi transportation (two taxi journeys of two miles each)
Prices were collected through a variety of research methods as outlined below. Prices were taken in local currencies between March and May 2012 and converted into USD (when necessary) on May 29, 2012.
Hotels: Prices specify the average per-night cost of a room at four-star hotels found on TripAdvisor (via partner booking sites such as online travel agencies and direct hotel suppliers) in each destination for the summer travel period (June 1 - August 31, 2012).
Cocktails for two: Prices specify the average cost of two traditional dry martinis from a top-rated five-star hotel on TripAdvisor in each destination. *Designates the price taken from top-rated four-star hotel, as no five-star hotel is listed on TripAdvisor in this destination.
Dinner for two: Prices specify the average cost of a traditional or common two-course meal (starter and main course) for two people with a bottle of house (or cheapest available) white wine (prices averaged from three mid-range restaurants in each destination).
Return taxi trip: Prices specify the approximate cost of two taxi journeys of two miles each (representing an evening's return transportation). Data was taken from local authorities, recognized taxi companies, and/or travel experts on the area.
In addition to the TripAdvisor ranking, listing the city as affordable, New Orleans offers festivals every weekend throughout the summer. There has never been a better time to visit.
###
About New Orleans Tourism Marketing Corporation
The New Orleans Tourism Marketing Corporation, NOTMC, promotes the city as a leisure tourism destination throughout the year. Annually, NOTMC's marketing campaigns include strategic print, broadcast, and Internet advertising and public relations. Web sites: NewOrleansOnline.com; NewOrleansMuseums.com; RadioFreeNeworleans.com; GoNola.com. Social media: Facebook.com/NewOrleansOnline; Twitter.com/visitneworleans.
About New Orleans Convention Visitors Bureau
The New Orleans Convention & Visitors Bureau is a nationally accredited, 1,000-member destination marketing organization and the largest and most successful private economic development corporation in Louisiana. The CVB and its members influence thousands of decision-makers and millions of visitors to choose New Orleans through direct sales, marketing, public relations, branding and visitor services at our New Orleans headquarters and offices in Washington, D.C., New York, Chicago, Phoenix and four foreign countries. Consistently recognized as one of the top five CVBs in the country, the New Orleans CVB celebrated its 51st anniversary in 2011. For more information, please visit http://www.neworleanscvb.com.
About TripAdvisor
TripAdvisor® is the world's largest travel site, enabling travelers to plan and have the perfect trip. TripAdvisor offers trusted advice from real travelers and a wide variety of travel choices and planning features with seamless links to booking tools. TripAdvisor-branded sites make up the largest travel community in the world, with more than 50 million unique monthly visitors*, and over 60 million reviews and opinions. The sites operate in 30 countries worldwide, including China under daodao.com. TripAdvisor also includes TripAdvisor for Business, a dedicated division that provides the tourism industry access to TripAdvisor's millions of monthly visitors.