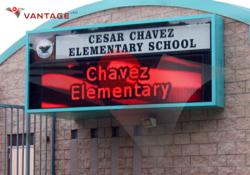 "I know every [LED] board on the market. You just can't fool me." After going through the signs he was thoroughly impressed, and decided to give LED signs another try said Bob Miller (RJ Miller Signs, CA)
Corona, CA (PRWEB) June 26, 2012
"I was ready to stop doing LED [Signs]" says Bob Miller, owner of RJ Miller Signs in San Diego, CA. "there were so many problems with them...they [were] driving me broke." Unfortunately, this experience is all too familiar for many in the LED sign industry. A large influx of sub-par manufacturers in the outdoor LED sign market have made it difficult to separate the good from the bad. Even some larger manufacturers have experienced diminished product quality from outsourcing too much manufacturing overseas. While this is good for the bottom line, it is a nightmare for dealer and end-users alike, with constant outages, poor display quality, and very little support for the product. Fortunately, Mr. Miller found Vantage LED, a fast growing outdoor LED U.S. manufacturer in Corona, CA who helped him find a better way.
RJ Miller Signs is a trusted contractor servicing existing signs, and providing brand new high quality signage all around southern California. "We do the whole thing...from start to finish," said Miller. With 43 years in the business, he said this experience and honesty have been significant factors that set him apart. "I try to tell people the truth and what they are going to run into," he stated. Over the years Miller has built up a large network of customers and organizations, he takes pride in his reputation and word of mouth referrals "We don't even have a website," he said.
After servicing and providing LED signs from virtually every major manufacturer in the market, Miller was getting tired of the constant struggles with product quality, long term support, and suppliers closing their doors. "The worse thing is to step down from the sign and say [to the customer] I'm sorry...the company is out of business and I can't get parts," he related. During the peak of this frustration, Miller was contacted by a Vantage LED representative who he had previously worked with in the industry. It took some time, but they convinced him to visit the factory in Corona to see the operation for himself. Miller was initially skeptical, but they gave him full access to the factory floor so he could investigate the quality more closely. "I know every [LED] board on the market," he said. "You just can't fool me." After going through the signs he was thoroughly impressed, and decided to give LED signs another try.
Miller has been using Vantage for almost 2 years now, and hasn't looked back since. When asked about his experience so far, he is brief but to the point "I've got 16 of them up...I had 1 power supply go out, what else can I tell you?" he said, adding that "If there is ever a problem we sit down and work it out, but really [the signs] have been problem free."
In addition to quality hardware, Vantage LED's LightSpeed™ Media software has provided a unique benefit to him and his customers. "The software is the easiest in the market" he said. This is possible in part because LightSpeed™ is developed, coded, and supported in-house and in the USA. "They made it simple" he said. "when I call, they have a person who can speak english...I appreciate that". Miller also noted some of the features LightSpeed™ offers like full Windows TrueType font support, international language support, text overlay, easy scheduling, and media file support "You can even drag and drop movies and videos" he said.
Vantage LED also takes pride in adapting to customers needs and timelines. Miller likes the ability he has to bring a time sensitive job to his salesperson, and see them truly find a way to make it happen. Quality and quick delivery equates to faster turnover in cash. VANTAGE DELIVERS!
Vantage LED engineers, develops, builds and supports their product in the USA. They use components from the most qualified industry sources only when necessary to provide a better product. When asked to summarize his experience with Vantage, Miller said "Its quality, service, likeable people, [they are] easy to do business with" adding that production lead times are short, and communications have been great.
Vantage LED is finding ways to innovate LED signs and manufacturing every day. They want to be more than just a supplier or manufacturer; they want to be a partner, fully committed to supporting both dealers and end-users in a quest for excellence in LED signs. Like Bob Miller, they want help everyone find a better way.