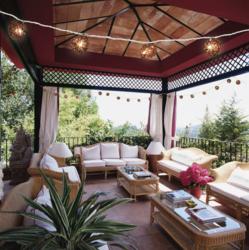 Today's outdoor furniture and decor is more comfortable, durable and stylish than ever.
Los Angeles, California (PRWEB) June 20, 2012
This time of year is all about style. To take advantage of the long days and warm nights of summer, the trend in outdoor entertaining is toward a creative mix of friends, flavors and furniture, from new outdoor chairs to farm fresh fusion cuisine. To help people spruce up their patios and gardens for the summer, the design team at Lamps Plus has assembled some simple style tips for throwing the perfect outside fete this season.
Let Them Sit
"Seating is a mainstay of the backyard party. It invites guests to relax and it's an easy way to imprint your personal style sense on a party," says Lynda Gould, Lamps Plus design expert and Corporate Interior Design Manager. "Patio furniture has come a long way over the years, and my guests will often marvel at the comfort and quality of today's outdoor seating. Chic modern stacking chairs can be pulled out at a moment's notice for a sophisticated affair. Traditional rocking chairs and Adirondack rockers add an American charm to the patriotic summer holidays."
Marcia Prentice, Designer and Blogger with Lamps Plus, adds some additional ideas for seating guests. "Mix and match your seating for a layered, casual atmosphere. I love nestling a few woven bar stools among a bed of flowers. An outdoor lounge chair can comfortably seat two to three people (and they're great for a nap by day!). For a romantic touch, you might want to try a picnic blanket or throw blanket on the grass."
Lighting under the Stars
Summer barbecues may begin in the afternoon but will often extend long past dark. After sunset, lighting is critical for maintaining the mood. "Theme party lights shed a fun light on the festivities. Look for string lights with summer flavors such as palm trees, sandals or exotic cocktails," offers Prentice. "For a more stylish, time-tested approach, try using paper lanterns. Natural indoor/outdoor lights woven from sustainable materials like bamboo and rattan are definitely a hit this year."
Finding the right lighting is also key to guaranteeing the safety and comfort of guests long after the sun goes down. Landscape and path lights can provide ambient light without oversaturating the outdoor space. For keeping the garden truly "green," solar landscape lights are an easy-to-install solution. Gould explains, "LED solar landscape lighting looks great and doesn't require an electrician to install. Simply stake the lights into the ground and let the sun charge them."
Become a Food Stylist
Ever wondered exactly what food stylists do? They're the people who get paid to make sure good food looks great in photo shoots. A few simple design tricks will have any outdoor meal looking like a professionally styled spread. "The appearance of your food is the prelude to the taste. Try arranging food on serving trays and platters to create a personalized style," suggests Prentice. "The natural rustic look is in this year, especially for the backyard party. A well-matched set of wooden bowls and plates instantly connects your outdoor get-together to its garden setting. Consider sustainable woods like acacia and bamboo for a guilt-free, natural look."
Perhaps the best thing about outfitting a space for outdoor entertaining however is what happens after the guests have left. Gould elaborates, "You might decorate for a party, but don't forget to enjoy your space alone too. With some chic comfortable outdoor chairs, attractively hung lanterns, and a fresh set of serving trays on hand, your space is a romantic outdoor escape, whether you're entertaining for one or one hundred."
About Lamps Plus
For more than 30 years, Lamps Plus has been synonymous with excellence in the lighting retail industry. Established in 1976, Lamps Plus is the nation's largest specialty online lighting store with more than 40 superstores throughout the western United States. Together with their retail lighting stores and online business, Lamps Plus serves customers nationwide with the largest selection of functional and decorative lighting fixtures, accessories, furniture and home décor. This selection includes hundreds of products available exclusively from Lamps Plus. Services include in-home lighting consultations, in-store lighting workshops and installation from expert, licensed electricians. American Lighting Association certified lighting designers are available to offer product recommendations and lighting advice in all our stores, by phone or online at LampsPlus.com.