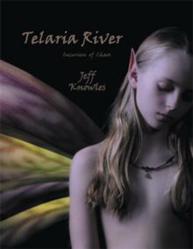 Crownsville, MD (PRWEB) June 16, 2012
Inviting readers into the realm of the fairies, author Jeff Knowles presents his newly published book, TELARIA RIVER: Incursion of Chaos. At once epic and subtle, virtuous and imperfect, magical and practical, this book highlights a young fairy's courage as she struggles for her and her loved ones' survival.
Uniquely illustrated with scores of photo-realistic scenes, this fiction introduces readers to the Telaria—not the largest river on the little continent of Talis, but one that serves as the lifeblood to many of its sentient races. Pixenni, sylphaen, faedren, even the powerful sylmanni—all rely on the river's water, and the bounty of life it supports throughout its valleys.
But a spreading sickness threatens to rob the flying races of their flight magic, while strange beasts and phenomena begin appearing throughout the region. Tiny Elesindra must learn to draw upon her inner strength to fight for her loved ones' survival, while Queen Taliana struggles to investigate the source of the chaos.
Serving as Taliana's appointed bard, Elesindra narrates Talis' growing peril through the eyes of a few unlikely heroes struggling to save their realm. Members of very different tribes and races forge alliances, and through frightful encounters and frustrating setbacks, learn that a workable coalition can only be built with trust and tolerance. But will their unique combination of skills and Srin magic be enough to destroy the source of the chaos—or even find it in time?
A story of ingenuity and loyalty and perseverance, TELARIA RIVER: Incursion of Chaos is appropriate for most young readers without talking down to sophisticated ones. The imagery, simultaneously exotic and realistic, emphasizes storytelling and natural beauty to vividly bring this story of courage to life.
For more information on this book, interested parties may log on to http://www.Xlibris.com.
About the Author
The author, Jeff Knowles, grew up in Connecticut before moving to Maryland to start a family and a career in public service with the federal government. Always a fan of thoughtful fantasy and science fiction stories, he discovered his passion for photography during college and later began imagining ways to combine the two realms. During the 1990s and 2000s he studied and developed skills in fine art portraiture, where he learned that being artist is about understanding 'the rules' and also when to challenge or break them. While greatly enjoying visual and literary works of fantasy, Jeff began to wonder: why can't imagery be mystical and at the same time realistic or plausible? And why couldn't beautiful photographs show not just a concept, but illustrate a complete story? And with so much real violence, must fantasy stories rely on constant battles and bloodshed to be dramatic and interesting? Jeff was grappling with how to intertwine these concepts into one project, when along came the stories and images gathered by Elesindra of Talis. It was the perfect match, even if building it all into one book became more consuming than he was prepared for initially. After years of production and editing, the result was Telaria River.
TELARIA RIVER * by Jeff Knowles
Incursion of Chaos
Publication Date: June 5, 2012
Picture Book; $91.99; 180 pages; 978-1-4691-7980-3
Picture Book Hardcover; $101.99; 180 pages; 978-1-4691-7981-0
To request a complimentary paperback review copy, contact the publisher at (888) 795-4274 x. 7879.
To purchase copies of the book for resale, please fax Xlibris at (610) 915-0294 or call (888) 795-4274 x. 7879.
For more information, contact Xlibris at (888) 795-4274 or on the web at http://www.Xlibris.com.