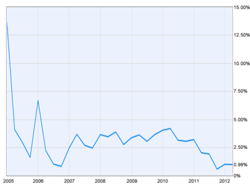 The Kindle Fire has cooled with consumers, according to the Yankee Group.
(PRWEB) June 18, 2012
To most of us, Amazon's winning streak may seem unbeatable. An April article in the Chicago Tribune [1] boasts that stellar quarterly results are even helping to convince skeptics that Amazon's bout of intense spending is about to pay off. Starting as a scrapping company in 1994 [2], they weathered the dot-com bust of 2000 [3] to emerge as a dominant player on the internet.[4] Their ability to persevere, early online experience, and brand recognition are among the main factors that created the unstoppable momentum to propel them to become an e-commerce magnate.[5] Though it may seem like everything the Amazon machine touches turns to e-gold, is Amazon becoming the victim of its own girth?
Some of Amazon's renowned products and services include its retail offering, Amazon Web Services, Amazon Payments and the Kindle. But have you ever heard of AmazonFresh, Pinzon, Amazon Shorts, Amapedia, or Amazon Vine? Perhaps in an effort to meet investor expectations after flirting with losses in previous quarters, Amazon is growing in almost every direction imaginable from grocery to publishing. However, this very foray into so many side projects could be exactly what is detracting from their core business and prominent products.[6] For example, at about 1%, Amazon's razor thin margins [7] are possibly forcing drastic attempts to preserve profit, as exemplified by its recent public embarrassment by draconian working conditions at its US warehouses. Furthermore, according to Cory Doctorow at Boing Boing , the Amazon marketplace is infested by automated software programs, otherwise known as bots, that feud over prices to profit off of selling books for as little as one cent.[8] Meanwhile, customers lost confidence in Amazon Web Services business after a widespread failure in 2011 [9] adversely affected thousands of businesses online, its biggest Payments competitor, PayPal, continues to dominate online and mobile payments [10], and the Kindle Fire has "cooled with consumers" according to a prominent research report.
Amazon has most recently entered the lucrative Business-to-Business (B2B) equipment and supplies marketplace [11] with Amazon Supply. The advantage of this space is that products are priced relatively high, and margins are significantly higher. They may hope to compete with brick and mortar shops as well as already established B2B services including eBay, ThomasNet, The Daily Sales Exchange, and BuyerZone.
Some services, such as BuyerZone, claim that they will find the right vendors for buyers based on a brief summary of what the buyer is looking for. However, all too often buyers find themselves deluged by responses that may feel like borderline spam [12] and do not find what they are looking for. On the other hand, websites such as ThomasNet offer listing and search services that enable buyers to find suppliers based on a category or search term. They seem to believe that based on brand recognition, suppliers will recoup advertising spend by displaying profiles on the website for thousands of dollars a year. [13]
The Daily Sales Exchange takes a hybrid approach. Vendors sign up with the DSE and are able to setup a storefront to market and sell their inventory wholesale. Buyers are encouraged to contact suppliers through the website in order to receive product help and custom quotes. The DSE does not charge a commission from these vendors or markup products. They are betting that they will be able to drive buyers to the DSE's online equipment and supplies marketplace based on product education and transparent pricing, in turn promoting vendor subscriptions. Although they are relatively new, we are keeping an eye on The Daily Sales Exchange as a contender in the B2B equipment and supplies marketplace.
Oddly enough, the biggest player in the market for Amazon to contend with, is eBay. [14] eBay is active in categories from industrial supply to construction, provides sellers with their own storefronts, and enables transaction processing through its sister company, PayPal. Although eBay charges a commission of $25 + 1%, up to $250 [15], (As opposed to Amazon's commission of 6 to 25%) [16], suppliers are eager to create storefronts due to eBay's strong brand and metrics.
Amazon probably has a long way to go before it is able to dominate the B2B equipment and supplies marketplace as it has done in retail. Although they may not be as agile or focused as scrapping start-ups operating in the space, the sheer size of their R&D budget affords them the opportunity to experiment with features, sometimes similar to existing marketplaces, picking and choosing between what works and what doesn't. Additionally, they have the leverage to snap up smaller companies that show promise within a market that is potentially worth $129 billion dollars. While Amazon may be getting too big for its britches, that isn't stopping them from a seemingly unbridled expansion into any territory that could shoulder strap profit margins.
Sources:
(1) "Amazon wins some skeptics over, shares surge". The Chicago Tribune. April 27, 2012.
(2) "Amazon.com". Wikipedia. History of Amazon
(3) "Dot Com Bubble". Wikipedia. The Dot Com Bubble
(4) "Amazon.com". Alexa Site Info
(5) "Amazon Case Study". Flat World Business. 2011. http://flatworldbusiness.wordpress.com/flat-education/intensify/creating-a-flat-business/case-amazon-com/
(6) "Amazon.com Inc". The New York Times. May 8, 2012
(7) "Amazon.com Profit Margin". YCharts. Jun 14, 2012
(8) "Who Can Profit from Selling 1-Cent Books on Amazon? Robots."
(9) "Amazon Cloud Failure Takes Down Web Sites". The New York Times. April 21, 2011
(10) "Ebay points to PayPal momentum, pledges innovation". Reuters. Feb 10, 2011
(11) "AmazonSupply Debuts As A E-Commerce Vertical For Industrial Materials, Mechanical Parts And Hardware"
(12) "BuyerZone.com Complaints & Reviews". Complaints Board. 2012. http://www.complaintsboard.com/complaints/buyerzonecom-c149084.html and "BuyerZone.com, LLC". BBB.org. 2012. http://www.bbb.org/boston/Business-Reviews/internet-services/buyerzone-com-llc-in-waltham-ma-87942/complaints/
(13) "ThomasNet: A Model for Directory Owners/Managers". Inside Design. Sept 3 2007 and "ThomasNet Reviews"Site Jabber. 2012
(14) "Fifty Percent of Global Online Retail Visits were to Amazon, eBay and Alibaba in June 2011". Businesswire. August 23, 2011
(15) "Fees for selling on eBay". eBay. 2012
(16) "Fees and Pricing". Amazon. 2012