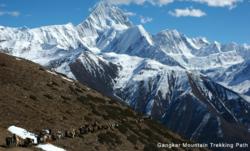 Lhasa, Tibet (PRWEB) June 17, 2012
Travel restrictions in recent weeks have made it difficult for foreigners to obtain permits to central Tibet, according to Tibet Travel Coop, a collection of Tibetan-owned travel agencies, tour guides, cooks, drivers and other travel personnel. Because of the tense political situation, the Tibet Tourism Bureau has restricted entry to foreign travelers until the end of June.
Because of the unpredictably of the permit situation, TTC is promoting the Kham Tibetan region of western Sichuan as an alternative travel destination. Travelers here face fewer restrictions, and the culture and scenery of this unique region are unparalleled.
"The Kham tour, called Spirit of Minyak, is unique to our organization," a TTC spokesperson said. "The places we go and the people we stay with are our friends and family, people we've helped train to accommodate tourists through the coop, as part of our mission to improve the livelihood of rural Tibetans. Travelers get to see the beautiful landscape and experience Tibetan culture firsthand. It's a win-win situation."
Minyak is a region southwest of greater Kham and Dartsedo (Kangding) is its capital. The area is located in modern-day Sichuan Province, China. People speak a unique local dialect and have distinct way of living compared to other Tibetans from Kham.
The Minyak region is known for the famous mountain Minyak Gangkar, in addition to its monasteries, ancient murals, and warm and friendly people. For travelers looking for a unique experience, Minyak is a well-kept secret. TheTTC tour goes from Chengdu city in central Sichuan, the Khampa capital of Kangding located in the mountains of western Sichuan, to several mountain villages, a remote nunnery, and the sacred mountain Minyak Gangkar.
A highlight of the tour is a visit to the Tagong Monastery, which houses the second most important Shakyamuni statue in Tibet. Travelers can spend time meditating in the monastery and walking kora (circumambulation). Then travelers will visit the Tagong Thangka Center, a NGO-sponsored school for 48 orphans and disadvantaged children from the Tagong area of Kham.
Tibet Travel Coop focuses on community interaction and offers local homestays in the villages. Part of the journey is also spent trekking. "This is a 12-day tour rich with cultural activities," TTC said. "For travelers that want to connect with locals and use a local guide, this is best option. We created TTC because we care about our communities, and we want to share our lives and our culture with others."
Tibet Travel Coop is a collection of local Tibetan travel agencies and guides working together to promote authentic travel experiences while contributing to the sustainability of host communities and their culture.