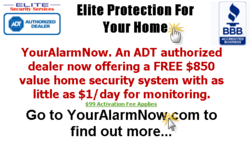 Free Next Day Installation Service for Chandler House Alarm Systems Launched by Elite Security Services to Maximize Customer Satisfaction
(PRWEB) June 16, 2012
Chandler house alarm customers of Elite Security Services can now receive next day installation of their security systems without paying any additional charges. The company has been providing their efficient domestic surveillance service in this part of the country since almost a year and is presently one of the most rapidly expanding security companies in this region. The introduction of the next day installation is the result of expansion of Elite Security Services' service network in Chandler, to provide better service in this region. It may be recalled that the company offers their low cost home protection service in all major cities, in Canada and America.
The economical service plans from Elite Security Services have made a significant impact on the Chandler house alarm industry. Their reliable packages are available for a monthly fee of only $35.99. In spite of offering a service plans within a common man's budget, the company has done exceedingly well to provide all latest features in their surveillance packages. The standard installation charges for all their packages is $99.00, and the company is now providing installation service within 24 hours of purchase for the same price. The introduction of this customer friendly installation scheme has been welcomed by the home owners looking for a security system for their household.
Elite Security Services was founded last year by the nation's leading home protection specialist Mr. Paul Shakuri. Unlike most other security companies, Elite Security Services in engaged in much more than just selling security packages to homeowners. They have been instrumental in spreading awareness amongst homeowners about keeping their houses safe from burglars. Talking about their new scheme of free next day Chandler house alarm systems installation, Mr. Shakuri says, "We are excited to introduce this offer for our customers in Chandler. This benefit is now available with all our service plans." He also added that the company is working on introducing some more attractive benefits to their customers in Chandler.
About the Company: Elite Security Services is a rapidly growing company in the home security industry. They offer highly efficient and economical home security solutions in America and Canada.
Contact
Paul Shakuri
Phone: 800-880-9569
Website: http://www.YourAlarmNow.com