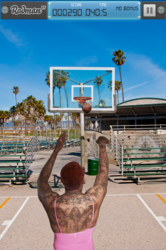 Rodman FT is a new benchmark for game graphics. We started from scratch and decided to build the app using unconventional methods, the latest hardware and used them unorthodoxly ...
London, UK (PRWEB) June 19, 2012
Developed using the latest available hardware and software, Rodman FT is a revolutionary basketball game released today for iPhone, iPad and iPod Touch.
It has a unique visual style never before seen on any platform – it is completely photorealistic.
It was built using the advanced Unity 3D Game Engine and footage of Dennis Rodman shooting free throws. Dennis was shot at 5k resolution and at an incredible 96fps using the latest Epic cameras from Red (the same cameras used to shoot Peter Jackson's "The Hobbit").
In addition to the regular levels there is also an Augmented Reality challenge level. It uses the back camera of the device to shoot live video and project it as the background of the game. This allows players to play against each-other by distracting the shooting opponents. To enable both players to view the action live on a TV screen the device can be connected to it via a cable or wirelessly using an AppleTV.
Gameplay is as simple as it should be for a casual game – you control Dennis using one finger. One gesture is enough to give the ball direction and strength. The scoring system and realism make this game addictive. It can be played using any extremity as the whole screen is used for input.
The game locations were shot in and around Los Angeles, California and the footage of Dennis was shot in Miami, Florida.
The controversial Dennis Rodman is known for his flamboyant and unique style. The game is true to his nature and using in-app purchases players can buy additional hair colors and outfits for Dennis to wear. From the standard white jersey to a translucent pink top and shiny golden dress. Yellow, red or green hair and even a hat with feathers.
One can play in true Dennis Rodman style.
The game is free and without ads. Revenue is generated by satisfied players purchasing additional levels (only level 1 is free), outfits and hair colors.
In the game Dennis also seems to show he has the ability to control space-time continuum. He manages to attract the ball after every shot, by simply reaching out with his hand. Was it this power that made him one of the best rebounders ever?
Ivan Andriollo, Tantrum Solutions CEO & Lead Developer, said:
"Rodman FT is a new benchmark for game graphics. We started from scratch and decided to build the app using unconventional methods, the latest hardware and used them in unorthodox ways to get a look never before seen. It still amazes me that we were able to pull it off on a mobile platform. I'm a big Dennis Rodman fan and have been since he joined the Chicago Bulls. I've always admired him for being both a great basketball player and a man not afraid of being different. Even in a conservative sports world where there are still so many taboos, he was able to become a member of the Hall Of Fame in spite of his eccentricity. Showing everyone that if you are great at what you do, you can get away with being yourself. Our game celebrates this whilst entertaining. Think different, have fun!"
About Tantrum Solutions: (http://www.tantrumsolutions.com)
Tantrum Solutions Ltd is a London based indie iOS and Mac OSX game development company. Since the release of their first game in 2010 the company has focused on creating premium educational games for preschool children. Several of their games have been featured by Apple on iTunes and have won praise and awards for their quality. The company has recently diversified its offerings and is now also making casual games aimed at all age groups.
Last year around a quarter of a percent of all downloads from the Mac App Store came from Tantrum Solutions. Aa Match Preschool Alphabet made it in the top 25 overall and held the top spot in the Educational category for several weeks. The company is now focused on bringing out new and exciting games – both educational and non – and is working with Microsoft to bring its premium apps to the upcoming Windows 8 platform.
For more information contact:
Tantrum Solutions Ltd
info (at) tantrumsolutions (dot) com
Tel:+447545966333
iTunes download link: