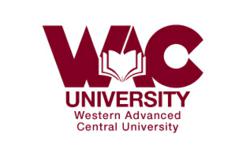 San Francisco, CA (PRWEB) June 19, 2012
WAC University, a global leader in online degree program offerings, has recently revamped its department responsible for facilitating academic research at the institution. The Department of Academic Research at WAC University functions primarily to facilitate the thesis/dissertation research process for students enrolled in Master's and Doctorate programs.
"Because of the extensive dissertation work involved in our research based degree programs we have expanded and improved our Research Department to more effectively support our students enrolled in these programs", said the Dean Department of Academic Research at WAC University. "The objective is to provide students with superior foundational guidance to help them successfully achieve their academic goals."
Thesis/Dissertation writing is an integral part of completing any research based degree program at the Master's and Doctorate levels. The Department of Academic Research at WAC University is primarily responsible for providing the official academic reviews of dissertation documents; providing methodology, design, and analytics consulting services to students and faculty as well as evaluating and approving the research work submitted by students at various stages of their online degree programs.
The determining factor for success in a research based degree program is the ability to write a perfect thesis/dissertation which is only possible if is supported by a comprehensive back-end research. The Department of Academic Research at WAC University provides students with the necessary research support to help them get through with this challenging phase and successfully complete their desired degree programs.
Under this department, WAC University has assembled a team of thorough professionals who are not only experts in research methods and analytics but also clearly understand the complexities involved in research writing as well as the overall needs of research students. With this research department firmly in place, the Online University is set to provide critical guidance to student throughout the research phase till the completion of their degree programs.
About WAC University:
Western Advanced Central (WAC) University is one of the largest universities operating online. Through programs and services that are most suitable to meet the learning needs of working adults, WAC University strives to provide students with a superior and rewarding educational experience. The institution is accredited by an internationally recognized, independent and private accreditation body named ACOHE (Accreditation Council for Online Higher Education). The mission of WAC University is to empower working adults to advance their careers and gain self-satisfaction. The University strives to fulfill its mission by providing flexible online Degree Programs along with a wide array of flexible student services aimed at catering the needs of working adults.