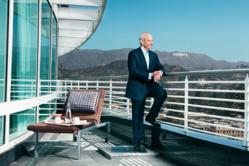 Los Angeles, CA (PRWEB) June 16, 2012
Lights! Camera! Loews! Loews Hollywood Hotel opened Saturday, June 16.
The hotel features 632 guestrooms, including 32 suites as well as over 48,000-square-feet of meeting space.
The Loews Hollywood Hotel is part of the Hollywood & Highland Center, giving guests direct access to the 460,000-square-foot center containing over 80 shops, 26 restaurants and eateries, two nightclubs, seven movie screens, eight bars, 12 bowling lanes, the newly renamed Dolby Theatre, which is where the Academy Awards® are held and features IRIS, Cirque du Soleil's newest production and first resident show in Los Angeles. The property is also conveniently accessible to the Hollywood Bowl amphitheater and Universal Studios Hollywood theme park and movie studio.
Follow Loews Hollywood Hotel on Twitter: http://www.twitter.com/LoewsHollywood
Like Loews Hollywood Hotel on Facebook: http://www.facebook.com/LoewsHollywoodHotel