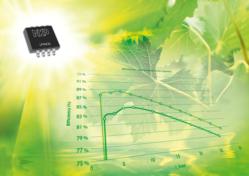 There's no other solution available that delivers this degree of robustness and power in such a small package.
Eindhoven, Netherlands (PRWEB) June 18, 2012
NXP Semiconductors N.V. (NASDAQ: NXPI) today released its new LFPAK33 portfolio – a range of high switching performance MOSFETs available in an ultra-reliable 3.3-mm x 3.3-mm power package. Unlike many MOSFET packages of this size, LFPAK33 has been designed from the ground up to be a tough power solution. Incorporating copper clip and solder die attach technologies, it features a market-leading junction temperature of 175 degrees Celsius. Nine LFPAK33 power MOSFET types are available immediately.
As electronic devices become ever smaller, components need to shrink to fit the available space and MOSFETs are expected to work under extreme thermal and mechanical conditions. Continuously switching many tens of amps at high temperatures can cause solder joint failure or crack the package case, as the device expands at a different rate to the PCB. LFPAK33 minimizes the risk of this type of damage through its unique construction which allows the exposed SOURCE and GATE pins to "flex" and safely absorb thermally- and mechanically-induced stresses.
"The never-ending trend to miniaturization in power switching applications is driving the need for MOSFET packages that can reliably handle system power requirements while minimizing the PCB space required," said Dr. Dilder Chowdhury, product marketing manager, standard MOSFETs, NXP Semiconductors. "LFPAK33 builds on the success of NXP's LFPAK56 package, with comparable performance in an even smaller footprint. These packages have been designed for reliability, with best-in-class thermal performance. There's no other solution available that delivers this degree of robustness and power in such a small package."
LFPAK33 is fully compatible with QFN and DFN3333 packages – both in terms of PCB footprint and automated vision inspection. The PCB footprint has been fully tested for compatibility by Norcott Technologies.
Key Features

Unique rugged construction, specifically designed for space-constrained power applications
No wire bonds, best-in-class thermal performance, up to 175°C
Uniquely resilient to mechanical and thermal stresses
Exposed leads means improved optical inspection of solder joints
Low 0.85-mm package height
Footprint compatible with QFN3333 / DFN3333
Proven track record from LFPAK56 – "The Toughest Power SO-8"
NextPower SuperJunction MOSFET technology
Links

NXP LFPAK33 power MOSFET portfolio: http://www.nxp.com/lfpak33
PSMN2R8-25MLC - 25V 2.8 mΩ logic level MOSFET in LFPAK33
PSMN2R9-30MLC - 30V 2.95 mΩ logic level MOSFET in LFPAK33
PSMN3R0-30MLC - 30V 3.15 mΩ logic level MOSFET in LFPAK33
PSMN3R9-25MLC - 25V 4.15 mΩ logic level MOSFET in LFPAK33
PSMN4R4-30MLC - 30V 4.65 mΩ logic level MOSFET in LFPAK33
PSMN7R0-30MLC - 30V 7 mΩ logic level MOSFET in LFPAK33
PSMN9R0-25MLC - 25V 8.65 mΩ logic level MOSFET in LFPAK33
PSMN9R8-30MLC - 30V 9.8 mΩ logic level MOSFET in LFPAK33
PSMN013-30MLC - 30V 13.6 mΩ logic level MOSFET in LFPAK33
About NXP Semiconductors
NXP Semiconductors N.V. (NASDAQ: NXPI) provides High Performance Mixed Signal and Standard Product solutions that leverage its leading RF, Analog, Power Management, Interface, Security and Digital Processing expertise. These innovations are used in a wide range of automotive, identification, wireless infrastructure, lighting, industrial, mobile, consumer and computing applications. A global semiconductor company with operations in more than 25 countries, NXP posted revenue of $4.2 billion in 2011. Additional information can be found by visiting http://www.nxp.com.
Forward-looking Statements
This document includes forward-looking statements which include statements regarding NXP's business strategy, financial condition, results of operations, and market data, as well as any other statements which are not historical facts. By their nature, forward-looking statements are subject to numerous factors, risks and uncertainties that could cause actual outcomes and results to be materially different from those projected. These factors, risks and uncertainties include the following: market demand and semiconductor industry conditions; the ability to successfully introduce new technologies and products; the end-market demand for the goods into which NXP's products are incorporated; the ability to generate sufficient cash, raise sufficient capital or refinance corporate debt at or before maturity; the ability to meet the combination of corporate debt service, research and development and capital investment requirements; the ability to accurately estimate demand and match manufacturing production capacity accordingly or obtain supplies from third-party producers; the access to production capacity from third-party outsourcing partners; any events that might affect third-party business partners or NXP's relationship with them; the ability to secure adequate and timely supply of equipment and materials from suppliers; the ability to avoid operational problems and product defects and, if such issues were to arise, to correct them quickly; the ability to form strategic partnerships and joint ventures and to successfully cooperate with alliance partners; the ability to win competitive bid selection processes to develop products for use in customers' equipment and products; the ability to successfully establish a brand identity; the ability to successfully hire and retain key management and senior product architects; and, the ability to maintain good relationships with our suppliers. In addition, this document contains information concerning the semiconductor industry and NXP's business segments generally, which is forward-looking in nature and is based on a variety of assumptions regarding the ways in which the semiconductor industry, NXP's market segments and product areas may develop. NXP has based these assumptions on information currently available, if any one or more of these assumptions turn out to be incorrect, actual market results may differ from those predicted. While NXP does not know what impact any such differences may have on its business, if there are such differences, its future results of operations and its financial condition could be materially adversely affected. Readers are cautioned not to place undue reliance on these forward-looking statements, which speak to results only as of the date the statements were made. Except for any ongoing obligation to disclose material information as required by the United States federal securities laws, NXP does not have any intention or obligation to publicly update or revise any forward-looking statements after we distribute this document, whether to reflect any future events or circumstances or otherwise. For a discussion of potential risks and uncertainties, please refer to the risk factors listed in our SEC filings. Copies of our SEC filings are available from on our Investor Relations website, http://www.nxp.com/investor or from the SEC website, http://www.sec.gov.