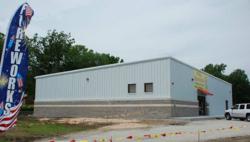 The new Jake's Fireworks store in Bartlesville will serve a fast growing community.
Bartlesville, OK (PRWEB) June 18, 2012
In a season of rapid growth and expansion, Jake's Fireworks announces the grand opening of a new store in Bartlesville, adding to its Oklahoma affiliate chain of stores in Tulsa, Catoosa, Norman, Miami, Ponca City, and another new store in Edmond.
The newest in a growing band of Jake's Fireworks retail spaces throughout the U.S., the Bartlesville store, located at 3434 SE Washington Blvd., offers local residents a wide variety of consumer grade fireworks and related products, just in time for July 4th celebrations.
Jake's Fireworks' knowledgeable staff members can answer questions and provide advice on purchasing fireworks products, including firecrackers, rockets, roman candles, aerial shot cakes, parachutes, lanterns, spinners, sparklers, and much more. Customers can also view videos of products in store before they buy.
With each new store opening, Jake's brings employment opportunities and new tax revenues to communities across the U.S.
"We're very proud of the pace we're keeping in new store growth, with five new locations so far this year,," says Pete Turner of Jake's Fireworks. "Our new store in Bartlesville will serve a fast growing community, it's a good fit for Jake's expansion stragegy n 2012.
"We also opened a high tech megastore in Kentwood, Michigan just a few weeks ago, and another in Indianapolis, Indiana; Jake's is fast becoming a familiar and trusted name in Fireworks in communities across the U.S."
For more information, visit the Jake's Fireworks website at JakesFireworks.com.
About Jake's Fireworks:
For 60 years, Jake's Fireworks has been a fixture in the Pittsburg, Kansas community and regarded as a leading distributor of wholesale and retail fireworks in the U.S., providing services that include standard distribution of world class fireworks, private label and bulk container orders. With nine distribution centers and more than 250 retail outlets nationwide, Jake's Fireworks is known in the industry as an innovator in consumer fireworks product development.
Jake's Fireworks is an enthusiastic supporter of fundraising opportunities, operating its retail fireworks locations for individuals and organizations during peak retail fireworks seasons.
###