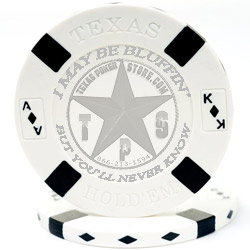 I May Be Bluffin' But You'll Never Know"...is a foot stomping , poker chips splashing, rocking tune.
College Station, TX (PRWEB) June 18, 2012
Jim Paris, Rock & Roll Music Producer and Chief Dealer at the Texas Poker Store, together with Texas Rock & Blues artist Randy Pavlock and his band Twenty Four Seven have completed production of their new, co-written poker song "I May Be Bluffin.' " Next up: shooting and producing their music video, slated to be ready to show off to the poker world by the time the Final Table is set for the 2012 WSOP Championship, scheduled for The Rio Las Vegas on October 28.
After playing poker for more than 20 years, Paris decided to open the Texas Poker Store to offer his poker-playing friends the best poker supplies at the best prices. After a year of operation and the online store's growing success, while collecting dedicated Twitter followers and loyal FaceBook fans, Paris made another decision: to return to his Rock & Roll roots and connect his love of poker to his love of music.
That decision, which has been circulating throughout the world of poker over the last several months, is now reaching its final stage. Their song "I May Be Bluffin' " is a foot stomping , poker chips splashing, rocking tune, vetted by the poker community and receiving accolades from all who've heard it.
Video producer and director, Kyle Netterville, has scouted the location for the shoot and prepared storyboards in anticipation of an exciting production. "We're looking forward to completing that phase of the project when Pavlock returns from his European tour that has him in Norway until the end of July," says Paris.
"We are shooting at a private and extremely authentic location in central Texas and then perhaps transitioning to a public club where Randy will splash all his poker chips in a final table heads-up match between him and who knows . . . it could be the rocker- turned-Chief Dealer!" Paris adds.
The Texas Poker Store was founded by Jim and Lynn Paris in 2011. Located in Bryan/College Station, Texas, the Texas Poker Store is a fully-stocked online poker store that offers 100 percent secured shopping. It features hundreds of poker supplies, from poker cards to the finest in luxury poker tables, folding poker tables and a variety of poker table tops. It carries poker chips and chip cases, poker novelties and collectibles, poker books and DVDs and the perfect gifts for any game room. You can find the Texas Poker Store's website at http://www.texaspokerstore.com, or visit their blog at http:// http://www.texaspokerstoreblog.com. Follow them on twitter and keep up with them on Facebook and Pinterest.
Well known for his Texas Rock and Blues sound from the river bottoms of the 'Blues Capital of Texas', Randy Pavlock together with the band, Twenty Four Seven,deliver the very best in hard-driving, yet heartfelt original Texas blues!