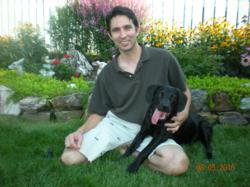 "Using technology to better care for your pets is a no brainer to me."
Detroit, Mi & Grand Rapids, Mi (PRWEB) June 19, 2012
Technology has infiltrated another industry that may surprise you. Right At Home Pet Sitting & Dog Walking out of Detroit and Grand Rapids are the most tech savvy in their industry here in Michigan. Robert Keck, owner of Right At Home says, "Using technology to better care for your pets is a no brainer to me. People lead busy lives, and utilizing the newest and most up-to-date applications, devices and products only makes it easier for the owner to be away from home and not have to worry. It saves them time, makes their life easier, and keeps their pets happy and healthy." Pet Sitting businesses throughout the world have been implementing the use of varying software to help manage their administrative duties, but with the advancements being made, businesses need to be progressive and forward moving to keep up. According to Robert, this is exactly what they are doing. "We are experts in pet sitting & dog walking, but that is just the surface. We are experts behind the scenes as well. The available technology helps us to give clients the best seamless service in this region", he states confidently.
Some of the benefits of this technology include:

GPS tracking of your pets while under Right At Home's care
All scheduling can be done online from your smart phone or computer
Countless scheduling options and updates
Video, photos and other media options
There is too much to list in this release, but Robert at Right At Home, LLC is happy to fill you in on the rest.
"I guarantee you will be thrilled with all of the changes we have made to make your life easier when it comes to caring for your pets." says Robert with his down to earth demeanor.
Some other projects Right At Home is currently bringing to fruition are:

Airport Ground Transportation for pets needing flight arrangements serving Detroit, Lansing and Grand Rapids airports.
Working with teams to make Detroit and Grand Rapids more pet friendly
If you would like to join Robert and his team at Right At Home to help in these endeavors, you can contact him directly using the information on the right.
Right At Home, LLC is a pet sitting and dog walking company which specializes in at-your-home pet visits. They operate in the following areas: Downtown Detroit (The D), Metropolitan Detroit, Downtown Grand Rapids and the greater Grand Rapids, MI areas. All pet sitters are qualified, fully insured and bonded.
http://www.rightathomellc.com
https://www.facebook.com/RightAtHomePetSitting
@KeckR
800-799-1572