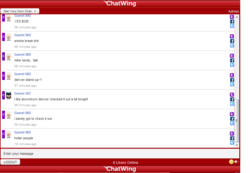 "Health bloggers can now use Chatwing's new chat tool to make their blogs active."
Cambridge, MA (PRWEB) June 18, 2012
The Chatwing chat widget is now upping its global standards by expanding into several health communities. Since the Chatwing chat tool specializes in the field of minimalistic chatting, health enthusiasts accepted it wholly as an avenue of communication. This is based on the critical reception gathered by the Chatwing development team prior to its expansion in health communities. In the latest version of Chatwing, several upgrades were introduced to ensure that people will have a rewarding chat experience all the time.
The latest version of Chatwing chatrooms is now globally competitive because its developers pushed the chatroom capacity to 600. With such capacity, lots of people will now have the potential to connect to each other in the least possible time. This feature will also push the visibility threshold for a lot of bloggers, especially those who are under the niche of health. According to Chatwing's developers, the average improvement of a blog with a Chatwing shoutbox is about sixty percent in the first week. The percentage varies depending on the content of the blog and the marketing effort of the user.
Few months ago, the Chatwing shout box almost struggled to generate users all over the Internet. When the Chatwing development team launched several upgrades, the chat tool became more faster and installation glitches were avoided. Since it is a widget, a lot of bloggers have used Chatwing to increase the activity in their blogs. Unlike before, the installation process of Chatwing is now smoother and the customization rate is easier. This allows the blog user to test-run the widget in just seconds after the whole installation process.
The Chatwing development team is planning to launch various upgrades, such as modification of the user capacity to 1000, longer history of messages, and an even faster connection that is also resilient against errors. Chatwing promises to deliver informational website chat experience, not only for health bloggers, but for everyone in the Internet as well.
About Chatwing.com
Chatwing.com has developed live chat software for websites and blogs. It caters to different online communities due to its high rate of connectivity. Everyone can create a customizable live chat box feature in 1 minute or less. Users have the ability to customize the size, color, and fonts of the chat product. The ability to chat via social media accounts such as Facebook and Twitter enable Chatwing to offer a personal and unique real-time experience to all sites. Chatwing is 100% free and very easy to use.