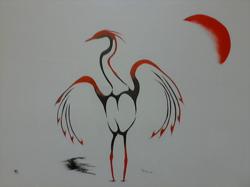 Patience
Kingston, Ontario (PRWEB) June 19, 2012
For years now aboriginal artist Peter Hawk Hill has struggled with his disabilities and the daily struggles of life. Native art has always held him from the darkness of despair. After a hiatus of several years Hill has managed to hang on despite the deep darkness of hypo-manic depression, his will to carry on the modernistic style created by the late artist Benjamin Chee Chee whom Hill Holds with almost a sacred regard. Hill has strived over the years, when well enough, to further his career through art exhibitions and more recently the internet sites he has created, but with very little success. Life as a 1st generation aboriginal has left Hill with few opportunities.
"For me to just make a living and have some self reliance is all I want to achieve apart from carrying on Benjamin Chee Chees simplistic values". Hill wishes to appeal to anyone, philanthropists, art patrons, and galleries who could possibly help him financially to continue his work and and get his company off the ground. Not looking for a hand out, but just a helping hand to stave off being on a small pension and try to have some self worth in an increasingly hostile world to him that doesn't understand the stigmas attached to his illness. "With the global economy in turmoil and instability in Europe at this time, Hill is still determined to drive forward to get his work out there although slow going," as noted by a close friend.
"I still hope out there people still have a hunger for the simplistic values I think we all have and that the beauty through simplicity of my work at least touches a heart or two" as said by Hill.
Mission Statement:
Ravens Aboriginal Art Company strives to modernize and revolutionize Traditional Aboriginal Art through the collective of artists within the company. Pottery, bead work, and various handwork's are but a few of the collectives efforts to both bring new and traditional art to the world.
For more information, please visit :
http://fineartamerica.com/profiles/peter-hawke-hill.html
or contact direct @613-766-7373 or 613-329-1088
or contact by e-mail nishnawbe(at)excite(dot)com