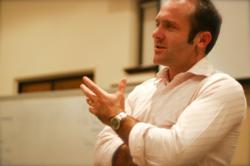 A single idea change change your life.
Canberra, Australia (PRWEB) June 18, 2012
International speaker, author and content creator, Jonathan Doyle has just released a new podcast called "Limiting Beliefs" designed to target the impact of poor cognitive models that affect millions of people around the world.
Drawing on the example of famous historical events such as Roger Bannister's game-changing sub four minute mile, Doyle explores the impact that limiting beliefs have on a large range of outcomes for many people. His theories, drawing upon extensive post graduate qualifications argue that while people cannot control their past and may have limited control over aspects of their environment they can exercise formidable control over their beliefs.
He states, "The purpose of the podcast is based around the idea that you don't really need a major list of new ideas to move your life in a new direction, you just need one good idea that you are prepared to actually use. If the average person become aware of the incredible impact that their limiting beliefs are having upon them they would immediately take massive action to create change."
Having delivered live seminars to over a quarter of a million people Doyle has increasingly focused upon providing simple strategies to help people navigate change at any point in life.
The new podcast joins a series of other recent podcasts he has created to reach a larger audience.
He continued, " We wanted these ideas to be free. Great ideas belong to a global community and I wanted to reach out with the great things I have learned over the years and see who we could impact in positive ways. By creating the Limiting Beliefs Podcast I am comfortable that if we only reach a few thousand people then they is still a great outcome."