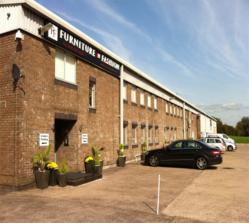 (PRWEB UK) 19 June 2012
FurnitureInFashion is one of the largest expanding online stores in UK and has joined hands with biggest online market expert Webgains to stretch its horizons and create an impeccable synergy for affiliating marketing. Furniture In Fashion has been in the online business since 2007 as a retailer of German manufactured furniture. The company is focused on exploring and sustaining the convenience of online business. The company offers a wide range of products, catering not only household customers but trade customers as well by offering enhanced customer support, fast delivery and competitive prices. FurnitureInFashion is offering above 7000 products suitable for cafes, saloons, office, factory, household and shopping centers. The company is dedicated to provide all home solutions, therefore supplies a unique and a wide variety in wall art, room dividers, umbrella stands, bar stools, computer tables and bedroom furniture.
Asad Shamim, the owner of FurnitureInFashion was initially in the fashion industry business. He decided to switch his business preference due to the pressure of discount retailers. Having the fashion know how, Asad decided to enter the online furniture industry. Seeing the true potential of online business success, he decided to join the furniture retailing business and sell online. FurnitureInFashion after successfully establishing the business is now working towards expanding its business and potential market globally.
Considering the market expansion plan, FurnitureInFashion is now working with Webgains to strengthen their affiliate network. Webgains is the biggest name in the affiliate marketing and specialize in linking the merchants in the online marketing industry to form the affiliate linkage. An affiliate is basically a website which drivers the potential customers to FurnitureInFashion to earn a commission over any confirmed sales made to the customers.
This affiliate linkage uses simple tools like banner ads, product listing or a simple text link to drive the customer and make a purchase. Affiliates usually use the option which will ensure that the visitors will click on it. As a result of quality images and excellent savings on offer.
FurnitureInFashion has been able to earn excellent conversion levels. The built-in-reporting tools allowed FurnitureInFashion to track the sales and monitor the performance of a website in detail. FurnitureInFashion offers a sales commission of 5% on all the sales generated through affiliates.
Webgains is determined to ensure and provide a hassle free commercial and financial transaction platform to both the merchant and the affiliate.
Webgains offers a complete affiliate package including customizable interface, keyword and site campaigns under one account for ease of management and comparison, role based user access and unparalleled reporting. Webgains with its tremendous ability has been able to locate numerous affiliates for FurnitureInFashion.
Due to successful affiliate marketing campaign, FurnitureInFashion has been able to win a number of orders from Iraq to supply local government offices and hotels with range of office equipments and furniture. The company with the affiliate efforts has been able to complete a £60,000 supply contract with Al Najaf International hotel in Baghdad. In addition to this, the company is also shipping an order of £120,000 to Iraqi education authority. With such sales and profits, FurnitureInFashion has been able to move into the 3.5 acres of land in Farnsworth, hence providing showroom, warehousing and distribution center all under a single roof.
The growth FurnitureInFashion has witnessed in its business due to affiliate marketing has been enormous. The company has been able to expand its market by reaching far out to all the potential customers around the globe. This definitely presents an ideal and bright opportunity for all the affiliates in the online industry to associate themselves with FurnitureInFashion to earn excellent commissions and fame as well.