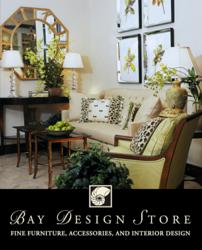 I want to thank all of our friends and invite them to visit our beautiful showroom in Naples. - Susan Bay
Ann Arbor, MI (PRWEB) June 20, 2012
After more than 35 years in Ann Arbor, Susan Bay has decided to concentrate on business and life in Naples, Florida and will be closing the Bay Design Store's retail showroom in Ann Arbor. 
"After carefully weighing all factors," Susan said, "I have decided to spend my time in Florida, where business at the downtown store location is flourishing."
Current orders with the Ann Arbor store will remain unaffected by this decision, and all design projects and special orders will remain in place for completion. To ensure design continuity, select Ann Arbor staff will be joining the Naples store.
The Store Closing Sale, featuring all of Bay Design's unique inventory, will begin June 21, and the store will remain open through the end of September.
New special orders for Ann Arbor-based clientele can be placed with designers in Ann Arbor. Orders placed after June 20, 2012, will be administered through the Bay Design Store in Naples, but all delivery, installation and other details will be handled by the designers at the Bay Design Store in Ann Arbor.
"I want to thank our clients and friends for their loyal support over the years," added Susan. "I invite you to visit our newly expanded store in beautiful downtown Naples. It has been my pleasure to be a part of your life."
About Bay Design Store
The Bay Design Store is one of America's outstanding interior design stores featuring an ever-changing selection of furniture, lamps, rugs and accessories carefully curated by a staff of professional designers. Founder Susan Bay believes comfort and elegance can only come from working closely with clients, and translating that information into remarkable environments. Their interior designers are renowned for comfortable, new traditional design for residential homes, award-winning hotels and model homes. Come in today and see how their designers bring the best in interior design to the places you live.