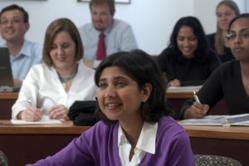 Ultimately, this is a book for students and their families to demystify the college experience so that you get the most out of your investment.
Washington, DC (PRWEB) June 18, 2012
University deep throat? College Success Coach? Both describe American University professor Jon Gould and his new book How to succeed in College (While Really Trying): A Professor's Inside Advice (University of Chicago Press, May 2012). Gould equips incoming college freshmen and their parents with the tools and know-how to achieve success from the moment they arrive on campus.
A resource for freshmen and their families
Compared to the number of books explaining how to choose and get admitted to a university, there are few guidebooks aimed at helping students succeed at college once they arrive. Recognizing the lack of information Gould set out to bridge the gap. He says, "Ultimately, this is a book for students and their families to demystify the college experience so that you get the most out of your investment."
Through his nearly 20 years of teaching, Gould offers students structure and strategies after introducing the basics. He begins with the university lexicon: seminar vs. lecture, adjunct vs. term vs. tenured faculty, and the meaning of a credit hour. In subsequent chapters, Gould details preparing for class, writing research papers, and how to take exams. All along he is trying to save students from the "if only I had studied more" refrain he hears all too often after grades are reported.
But before Gould reveals his tips and secrets, he is frank in preparing students for what's expected from them. Akin to a freshman boot camp, Gould explains that success is based on "the record of what you do in class — not what you could have, should have, or would have done had circumstances been different."
Getting the most from the faculty and classes
At some schools a single class can cost $5,000 a semester. With that much on the line, Gould shows students how to find the best classes and professors.
Attending office hours, an often ignored benefit and opportunity, is another insider tip. Office hours offer a chance for students to get personal instruction from faculty that may be missing at some large universities. Students can get additional assistance on classwork or seek advice on their major or career plans.
Gould's other tips for "getting the most from faculty" include attending and preparing for class, participating regularly, and "confessing confusion" when a concept is unclear. Some of these tips may seem obvious, but it's astonishing, Gould says, how few incoming students understand them. His valuable how-to's geared to each tip are particularly helpful and revealing.
Balancing class with college life
Personal responsibility is a recurring theme that Gould emphasizes. Students arrive at college surprised to find high school structure has vanished. For some this is a pitfall because nobody asks if work has been done. Gould's secrets and tips help to develop a regimen for success inside and outside the classroom based on taking responsibility and managing time. Gould's structure provides study time in addition to time for internships, socializing, and other activities associated with a well-rounded college experience.
Advice for those inevitable times of trouble
Even the best students can find the transition to college stressful. Gould explains there are several helpful resources on nearly every college campus to meet challenges. He says, "Students living truly on their own for the first time presents pressure and new found responsibilities for a generation perhaps not used to living without a safety net." And if a student is having issues – academic, learning, or social – Gould explains the many resources and appropriate procedures that are in place to assist them from accommodation for learning disabilities to finding tutors.
American University is a leader in global education, enrolling a diverse student body from throughout the United States and nearly 140 countries. Located in Washington, D.C., the university provides opportunities for academic excellence, public service, and internships in the nation's capital and around the world.