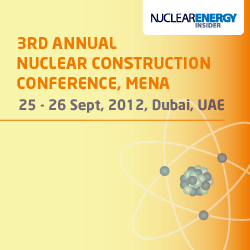 (PRWEB) June 19, 2012
In 2008 Egypt had a stable and developing nuclear power program that had been in the planning stages for decades. Following the nation's construction and operation of two test reactors for educational and training purposes, the Ministry of Electricity and Energy and the NPPA had contracted the services of Worley Parsons to aid their development of a 1000mw unit.
Work was progressing well at the chosen El Dabaa site in Matrouh, North Western Egypt; however political disturbances across the nation unfortunately caused the project to halt in 2011, but all is about to change as the nation takes a new approach to nuclear power.
At the 3rd Annual MENA Nuclear Construction Conference (Dubai, 25-26 September), the Ministry of Electricity and Energy will exclusively announce the history of the project and changes that will accelerate the tendering and bidding process for technology providers and key nuclear contractors – offering a huge $6 billion deal for successful companies.
MOEE's Senior Advisor for Energy and Nuclear Affairs Dr. Ibrahim El-Osery, will be delivering this exclusive news at the conference and will be offering details of Egypt's revitalised project including…

An examination of the project's historical background, reasons behind the country's pro-nuclear decision and how the project will be moving forward from 2012
An analysis of the infrastructure development from 1957 to the present day to gain a forward schedule of the required construction activities to establish nuclear power
Exclusive outline of the bid invitation specifications and basic features of the reactor requirements to see how your services can be used on this project
This project follows an aggressive increase in the development of new nuclear construction projects in the Middle East and North Africa.
Since KEPCO secured the Middle East's first tender for 4 nuclear units from the Emirates Nuclear Energy Company in 2009, Saudi Arabia announced 16 units to be deployed as part of the KA CARE project, Jordan are planning their first plant and bordering nations such as Turkey are following suit.
This boom in the nuclear construction market will generate over $300 billion for nuclear contractors.
If you are interested in securing your place in this booming market you can download the event brochure for the 3rd Annual Nuclear Construction Conference here:
http://www.nuclearenergyinsider.com/mena/conference-event-brochure.php