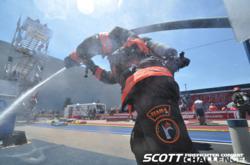 Come see your local heroes in action!
Casper, WY (PRWEB) June 19, 2012
We are proud to announce the Scott Firefighter Combat Challenge will be coming to the area this weekend in conjunction with the Casper NIC Fest. The event is being offered to promote the physical fitness of firefighters, and will be part of the 20-plus Challenge tour to be held throughout the United States in 2012.
While you must be a firefighter to take part in the competition, the public is encouraged to come and watch as the participants navigate the Challenge course or "The toughest two minutes in sports," as it's frequently known.
The Scott Firefighter Combat Challenge will be held on Beach Street-between E.1st and E.2nd. The individual competition starts Friday, June 22nd at 5pm. The tandem and team relays begin Saturday, June 23rd at 10am. Firefighters competing in the Scott Firefighter Combat Challenge, will be competing in a five-evolution event, which includes a 5-story tower climb with high-rise pack, hose hoist, forcible entry, hose advance, and victim rescue. Competitions shall include individual, team, tandem, and relay. Firefighters will vie for times, points, and placement qualifying them for the Scott Firefighter Combat Challenge World Challenge, to be held in November 2012.
For a complete description of Challenge rules and regulations, or to register as a competitor, please visit http://www.firefighterchallenge.com. The registration fees are: Individual $75, Team $290, Tandem $90, Relay $195.
Also that weekend, there will be a Kids' Firefighter Challenge that targets youth from ages 4 to 11 and is­ a miniaturized version of its adult counterpart. The Kids' Challenge is an exciting adventure for any child who ever wanted to put on some fire gear and squirt a fire hose.
The Scott Firefighter Combat Challenge was founded 20 years ago, by Dr. Paul Davis, as a physical fitness research project at the University of Maryland. The Challenge is based out of Burtonsville, Maryland, and maintains a goal of promoting fitness within the first responder community.
For more information about the Scott Firefighter Combat Challenge, please visit http://www.firefighterchallenge.com, or call 301.421.4433. For more information about the Casper NIC Fest please visit their website at: http://www.thenic.org/index.php?/events/more/nic_fest_2012