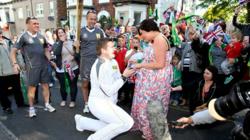 The Olympic Torch Relay has had a phenomenal reception in each community is has touched over the last month
(PRWEB) June 18, 2012
On Monday 18th June, the London 2012 Olympic Torch Relay – presented by Coca-Cola, Lloyds TSB and Samsung – will travel 109.55 miles through 17 communities on its journey from Middlesbrough to Hull.

Today the Relay will travel 109.55 miles
133 Torchbearers will carry the Flame
Evening celebration to take place in West Park, Hull
Images from today can be downloaded here
The Relay will travel through the following communities: Middlesbrough, Redcar, Marske-by-the-Sea, Saltburn-by-the-Sea, Brotton, Carlin How, Loftus, Hinderwell, Lythe, Sandsend, Whitby, Pickering, Scarborough, Filey, Bridlington, Beverley and Hull.
Highlights for today include:
At 06.29am James Coupland, 17, from Middlesbrough will carry the Flame along the Transporter Bridge. During his time at Oakfields School, James has been a true ambassador for school sport. He has competed and achieved success in a range of sports including football, athletics, cross country and indoor rowing teams. During year 11, James enjoyed his most successful year, reaching the Middlesbrough town cup final with the football team, competing at county level in cross country and achieving third place in the North East Indoor rowing competition, despite being a novice against more seasoned rowers.
At 7.40am the Flame will be taken to the Humber Bridge.
At 10.09am Kelly Williams, 25, from Scarborough, will carry the Flame on the North York Moors Railway from Whitby and Pickering. The Flame will be transported on the A4 Pacific locomotive, Sir Nigel Gresley, which holds the World Record for being the fastest steam engine since the Second World War, achieving a speed of 112mph in 1959.
Kelly is a truly inspirational and passionate PE Teacher who has revolved her life around bringing happiness to children through sporting activities. Years of volunteer work include involvement with Step into Sport, Youth Sport Trust, YHA, Toplink. Kelly has been to Lusaka, Zambia to coach underprivileged children in sport and HIV awareness. Her connections made in Zambia have inspired her and a small group of others to raise over £20,000 and her bond with the country will remain forever.
At 7.17pm Amy Hopkin, 31, from Hull, will carry the Flame into the Evening Celebration at West Park, Hull. Amy has overcome the limitations of Down's syndrome to travel the world as part of a British gymnast display team.
The evening celebration will take place in West Park.
The evening celebration will feature a variety of entertainment staged by LOCOG and the three Presenting Partners of the London 2012 Olympic Torch Relay - Coca-Cola, Lloyds TSB and Samsung - with support from Hull City Council. The show will start at 4.30pm.
The line-up includes music from Little Comets, a dance troupe who will provide a unique fusion of street performance, theatre and sport and dance act Twist and Pulse. There will also be entertainment from local acts staged by Hull City Council.
Towards the end of the two-hour show, the last Torchbearer of the day in Hull – Amy Hopkin - will light a celebration cauldron on stage at the event which will enable the Olympic Flame to be seen by the audience.
Other Torchbearer highlights include:
Tom Ransley, 26, from Ashford and carrying the Flame in Pickering. Tom, who was nominated through the Coca-Cola campaign, is a Great Britain rower who won a silver medal in the Men's 8 in the world rowing championship in 2011.
Jamie Green, 18 from Scarborough, nominated through the Lloyds TSB public nomination campaign is the Children's Patron at young people's mobility charity Whizz-Kidz. Jamie, who is carrying the Flame in Scarborough, has been ambassador of the charity for over five years. He has chaired Whizz-Kidz's Kidz Board - leading campaigns, persuading MPs and doing media interviews.
Sophie McMullen, 18, from North Ferriby and carrying the Flame in Bridlington. Sophie, nominated through the Locog campaign, is cheerful, hard-working and extremely popular with her peers and adults alike. She has recently gained a high grade ICT GCSE and is currently working towards a maths qualification. In the college unit of her school she participates fully as a member of the school council and an assistant to the speech therapy department in organising and running communication days for children from 4 special schools who use communication aids, acting as host and coordinator. All of this despite having severe athetoid cerebral palsy affecting all four limbs and her speech. Sophie uses a single head switch to operate her electric wheelchair, her communication aid, mobile phone, and to access a computer.
Michael Bromby, 51, from East Yorkshire and carrying the Flame in Hull. Michael, who was nominated by Hull City Council through the Locog campaign, has been coaching boxing for over 20 years and has produced over 40 championship winners at national, European and international levels in that time, including Luke Campbell who has recently qualified for the 2012 Games. Mick has worked with hundreds of youngsters across the city and has changed the lives of so many through providing the ethos of hard work and discipline in a competitive environment. Outside of his coaching and gym work Mick has contributed to the wider community of Hull and, for example, has delivered a Sports Unlimited scheme for women's boxing, which has now become such a success that his club now runs women's only boxing classes.
Janet Nolan, 63, from Beverley and carrying the Flame in Hull. Janet, who was nominated by Hull City Council through the Locog campaign, has been actively involved with the Special Olympics for over 20 years. She works tirelessly for disability sport, all the while looking after her 20 year old daughter, Mary, who has Down's Syndrome.
James Williams, Director, Olympic Torch Relay, Coca-Cola Northwest Europe & Nordics, said: "Today, another of our Coca-Cola Future Flames will help us celebrate the thirty-first day of our amazing journey, when Ellie Walls caries the Olympic Flame in Scarborough. We will also get everyone to Move to the Beat tonight as we bring Little Comets to the stage in Kingston-Upon-Hull."
Sally Hancock, Director, London 2012 Partnership at Lloyds Banking Group, said: "The Olympic Torch Relay has had a phenomenal reception in each community is has touched over the last month. Every community has come out in force to feel the excitement of London 2012. Lloyds TSB is creating as many opportunities as possible for people to get involved as the Olympic Flame passes their front doors. We're calling on everyone to cheer on their local Lloyds TSB Torchbearers – extraordinary people like Jamie Green and Amy Hopkin, running in Scarborough and Hull – and Local Heroes like Emily Hickman from Coventry. Our troupe of performers, the Flame Followers, are lighting up the celebrations along the route ahead of the Relay before their Flame Followers Spectacular performance in Hull tonight."
Sunny Hwang, Vice President & Head of Global Sports Marketing, Samsung Electronics, said: "Samsung is delighted to be a Presenting Partner of the Olympic Torch Relay as it has given us the perfect opportunity to encourage everyone from all around the world to be involved in the Olympic Games."
For further information please contact the London 2012 Press Office.
Notes to editors:
Each day two short packages of broadcast footage will be made available. The packages will be available via the Footage library – accessible from the Media Centre on london2012.com and direct from this link http://footagelibrary.london2012.com. Media will need to register for access in advance. Registration is free.
The broadcast of the Olympic Torch Relay is provided for Editorial Use Only. There can be no commercial association, no third party association and no commercial/ad superimposition on the video footage, unless the prior written consent of the IOC is acquired.
About the London 2012 Olympic Torch Relay Presenting Partners:
As the longest standing Presenting Partner of the Olympic Torch Relay, Coca-Cola will be using its heritage and experience to spread excitement across the UK ahead of London 2012. Coca-Cola's national nomination campaign - Future Flames – has focused on finding inspirational young people from across the country to have the once in a lifetime opportunity to carry the Olympic Flame. This summer Coca-Cola will celebrate these Future Flames: young people who use their passions in areas like sport and physical activity, music and dance, and community and the environment; to spread happiness in their local communities.
As the only National Presenting Partner of the London 2012 Olympic Torch Relay, Lloyds TSB will be taking the inspiration and excitement of the Olympic Flame right to the heart of communities across the UK. As part of Lloyds Banking Group, Bank of Scotland will be the National Presenting Partner in Scotland. We are creating as many opportunities as possible for communities the length and breadth of the UK to get involved as the Flame travels past their front doors.
Lloyds Banking Group is Britain's biggest corporate investor in UK communities and in 2011 invested £85 million and as part of the Group's Community Investment Programme, we've launched the Lloyds Banking Group Community Fund to give back to the communities in which we operate and pass through on our journey with the Olympic Flame. We're inviting everyone to visit the Lloyds TSB stand at each Evening Celebration to vote for a community project in their area that inspires and supports young people. By voting at the Evening Celebration members of the public will automatically enter a draw to win four tickets to London 2012. The two projects that receive the most votes at each locality will each win a £5,000 grant from Lloyds Banking Group. At the Lloyds TSB site members of the public will also have the opportunity to have their photo taken with the Olympic Torch, meet Lloyds TSB Local Heroes – the future stars of Team GB and ParalympicsGB – and get up close to our Flame Followers.
As a Presenting Partner of the London 2012 Olympic Torch Relay, Samsung aims to encourage everyone to be part of the greatest show on Earth to make London 2012 'Everyone's Olympic Games.' We aspire to offer new and memorable experiences for everyone around the world through our own innovative and smart wireless technology. Samsung is providing 1,360 Torchbearers, who have "gone the extra mile" by contributing to the local communities, through its worldwide public nomination campaign. In total over 25,000 nominations were received. Samsung will support towns and cities to celebrate the exciting moment of the Torch Relay and help showcase Great Britain's cultural landmarks to provide a more enjoyable experience to everyone. The evening celebrations that will be staged by Samsung in 66 towns and cities throughout the Olympic Flame's journey across the UK, will allow Samsung to entertain the community they are visiting. The Samsung caravan, complete with LED screen on the side showcasing runners and goodwill messages, will follow the Torchbearers around the UK cheering up everyone to celebrate the Torch Relay with music and interaction with local communities. It is Samsung's ambition that London 2012 will be an event that reaches and involves more people than on any other Olympic Games occasion.
The Supporters of the London 2012 Olympic Torch Relay are:
Worldwide Olympic Partners Procter and Gamble and Visa, Tier One Partners adidas, BMW, BP, British Airways, BT and EDF, Tier Three Providers Aggreko, Holiday Inn and NATURE VALLEY.
The BBC will be providing extensive coverage of the Torch Relay on television, radio and online. This will include special Breakfast shows on every BBC local radio station, and extended live coverage of an evening celebration event in every Nation and English Region. Full details of the coverage will be at bbc.co.uk/2012.
London 2012 Games partners:
The Worldwide Olympic Partners who support the London 2012 Olympic Games and the National Olympic Committees around the world are Coca-Cola, Acer, Atos, Dow Chemical Company, GE, McDonald's, Omega, Panasonic, Procter and Gamble, Samsung and Visa.
LOCOG has seven domestic Tier One Partners - adidas, BMW, BP, British Airways, BT, EDF and Lloyds TSB. There are seven domestic Tier Two Supporters – Adecco, ArcelorMittal, Cadbury, Cisco, Deloitte, Thomas Cook and UPS.
There are now twenty-eight domestic Tier Three Suppliers and Providers – Aggreko, Airwave, Atkins, Boston Consulting Group, CBS Outdoor, Crystal CG, Eurostar, Freshfields Bruckhaus Deringer LLP, G4S, GSK, Gymnova, Heathrow Airport, Heineken UK, Holiday Inn, John Lewis, McCann Worldgroup, Mondo, NATURE VALLEY, Next, Nielsen, Populous, Rapiscan Systems, Rio Tinto, Technogym, Thames Water, Ticketmaster, Trebor and Westfield