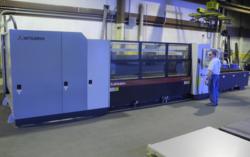 Oshkosh and Oconto, WI (PRWEB) June 21, 2012
The new fabrication machinery recently installed in Nercon's fabrication facility in Oconto, Wisconsin includes: Mitsubishi Laser, Milltronics Machining Center, Almo Vibratory finishing machine, Almo Parts Washer and a Doosan Lathe Turning Center. These machines significantly increase production throughput and capacity. As a result, manual labor is greatly reduced, and parts and components are produced faster.
The Mitsubishi Laser, Doosan Lathe and Milltronics Machining Center are fully integrated with the company's Auto CAD processes. This equipment is fully programmed in the office. The technology provides extreme accuracy of parts and eliminates reworking in the field. Also the sophistication of the CNC equipment allows Nercon to produce components that might not otherwise be achieved.
Manual operations have been redesigned for high speed and highly accurate CNC production. Dan Bickel, Operations Manager at Neroco (Nercon's fabrication division in Oconto, Wisconsin) states, "Now that the high-performance equipment is fully deployed in production, we've seen a 35% increase in fabrication throughput."
Nercon is well-known for conveyor equipment design, engineering and manufacturing. The corporate office is located in Oshkosh, Wisconsin and the fabrication and assembly campus is in Oconto, Wisconsin. The company's experts and processes solve automation challenges for manufacturing companies throughout North America. For more information about Nercon, visit http://www.nercon.com.