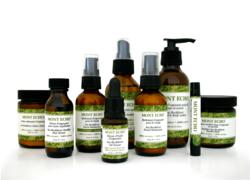 The study proves not only the efficacy of our Canadian-grown Sea Buckthorn for improving the appearance of skin, but also the viability of hand-made, natural skin care. - Brad Johnson, CEO
Lac-Brome, Quebec (PRWEB) June 20, 2012
Mont Echo Naturels' 100% natural Sea Buckthorn facial care products receive extraordinary results in a recent clinical study(*).
Highlights of the study include:
-- Stunning increase in skin hydration: 96% of women stated that their skin appeared more hydrated after only 14 days (100% after 28 days), with an average measured increase of 71% over the course of the study.
-- Decrease in the total area of brown spots and hyper-pigmentation of up to 79%, an incredible achievement for a product line that uses no synthetic ingredients
-- 87% reported significant reductions in the appearance of fine lines and 83% noticed a reduction in pore size
-- 91% of women felt that their skin appeared more youthful; more than 90% felt their skin was smoother, more even and more radiant
-- 100% of women tested reported that after just one month, their skin appeared softer and more supple
"This is an incredible result for us," states Brad Johnson, CEO of Mont Echo Naturels. "The study proves not only the efficacy of our Canadian-grown Sea Buckthorn for improving the appearance of skin, but also the viability of hand-made, natural skin care as an alternative to the synthetic anti-aging products on the market today."
Participants in the study were asked to utilize the full Mont Echo line of Sea Buckthorn-based natural facial care products, including the Crème Cleanser, Moisturizer, Oil Serum, Soothing Mist, and Nutritive Powder Mask. Corneometry, professional examinations and photographic analysis were employed to clinically measure skin hydration levels, pigment appearance and other factors.
The Quebec-based skin care company, which is the only company in the world to source 100% of its Sea Buckthorn from Canadian farms and to extract its own Sea Buckthorn oils, produces a full line of all-natural Sea Buckthorn skin care products. Sea Buckthorn is considered one of nature's most powerful plants and contains over 190 bioactive nutrients, including the rare and powerful anti-aging ingredient Omega 7. The small orange berry, which has an international reputation for its anti-aging and healing properties, is rapidly gaining notoriety in North America as a Canadian-grown "superfruit."
To learn more about Sea Buckthorn and Mont Echo products, view our video, "Sea Buckthorn: A Legendary Plant," at http://www.youtube.com/watch?v=dMegBLB3lYE&feature=youtu.be
Mont Echo products are available at select locations in Canada only.
Please visit http://www.mont-echo.com to learn more.

Spin Control North America (Subsidiary of Spin Control France). EVALUATION OF THE ANTI-AGING EFFICACY OF A CONCEPT OF FIVE NATURAL SKIN CARE PRODUCTS. 2012 [cited 2012 June 19].
Mont Echo Naturels is an innovator in the Sea Buckthorn industry. Not only are they the first internationally-branded company to focus on 100% Canadian-grown Sea Buckthorn, they are also the first company in North America to commercially extract their own supercritical Sea Buckthorn fruit and seed oils onsite and the first in the world to develop a true Sea Buckthorn floral water. Mont Echo Sea Buckthorn is grown in accordance with organic standards and the company is committed to sustainable growing, harvesting and processing methods. Their products are 100% natural and proudly Canadian.