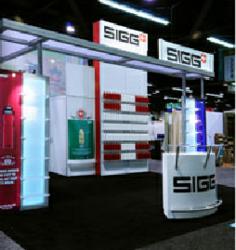 Sunnyvale, CA (PRWEB) June 20, 2012
Swiss-based SIGG has designed premium reusable aluminum water bottles for over 100 years. Their products reflect the ultimate in worldwide quality and craftsmanship to the degree that their water bottle design is featured in the Museum of Modern Art (MoMA) in New York. Given the highly competitive US marketplace, SIGG chose ProExhibits to design a trade show exhibit that could uniquely reflect their brand while attracting additional retail distribution and highlighting new products in the best way possible.
"The key to developing a high impact design solution that maximizes the client's return" says ProExhibits President, Dick Wheeler, "starts with listening carefully, then utilizing a team approach throughout the entire process. In every case, whether with custom rentals or new builds, we utilize our proprietary Needs Assessment to ensure all applicable marketing goals, functionality and other criticals are clear and concise up front. This provides our team - and our customer - with a success criterion through which every aspect of the marketing environment is developed. We then combine the latest technology and materials plus design creativity to put it all together for full impact on the show floor."
SIGG needed an exhibit that was unique and inviting, drawing visitors in to pick up and examine different types of water bottles, a key influencer in the marketing process. The challenge was to create a space with an aesthetically appealing design without making it look cluttered or confusing. The floor layout allows for traffic to flow easily into the exhibit and if needed, visitors could sit down in the conference area to discuss opportunities with a SIGG representative. The SIGG name and logo needed to be strategically placed to draw visitors from anywhere on the show floor. A modern and approachable exhibit solution was created to address their needs and meet their trade show goals.
States SIGG Director of Marketing, Mark Amler, "ProExhibits' design and service is outstanding. They also provide a comprehensive trade show management program on which we completely rely. ProExhibits does a wonderful job of going the distance to make us confident that the booth will be at the convention center as planned and look perfect when we get there. All we do is show up and concentrate on what we're paid to do...grow the brand! It's like having a trade marketing team within our team, with none of the management issues."
To see more work by ProExhibits, visit the Idea Gallery. To find out about work done for other business leaders, see ProExhibits' list of clients and testimonials pages.
About ProExhibits
ProExhibits is an award-winning event and exhibit design, fabrication and management agency serving clients worldwide. ProExhibits is well-known for turnkey, cost-effective solutions. They also create unique events, in addition to custom, modular and portable trade show exhibits and rentals. ProExhibits specializes in exceeding client expectations, exemplified by a 99% customer satisfaction rating. ProExhibits has assembled a highly experienced team of experts. They welcome the opportunity to utilize their combined talents, resources and industry knowledge to guarantee your success.