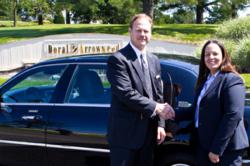 "The partnership with LSW adds a new world-class service for our guests."-Steve Mabus, General Manager at Doral Arrowwood
Rye Brook, N.Y. (PRWEB) June 19, 2012
Limousine Service of Westchester (LSW) is pleased to announce its new contract with the Doral Arrowwood Hotel and Conference Center, providing Doral Arrowwood guests and conference attendees with access to exclusive, chauffeured limousines for immediate, on-site transportation to any location at a moment's notice. Sedans, SUVs, busses and mini coaches will also be available upon request. As an added convenience, LSW will maintain a kiosk in the Doral Arrowwood lobby, staffed from 7 a.m. to 10 p.m., seven days a week, for information and booking of transportation services provided by a knowledgeable LSW specialist.
LSW will also provide corporate chauffeured travel services for guests attending conferences and meetings at Doral Arrowwood. Companies within a five-mile radius may arrange for shuttle services to and from Doral Arrowwood through their corporate travel department. One of the benefits of the arranged corporate service is the ability for guests to add transportation fees to their master invoice if requested prior to their arrival.
Doral Arrowwood is a Westchester based hotel and conference center located approximately 45 minutes from Manhattan. Both business executives and leisure travelers have found Doral Arrowwood an ideal destination for corporate retreats, meetings and special events. Steve Mabus, General Manager at Doral Arrowwood said, "The partnership with LSW adds a new world-class service for our guests." He added, "We are pleased to have LSW on stand-by, around the clock to deliver the highest level of service."
About Limousine Service of Westchester
LSW is a full-service chauffeured transportation company founded in 1978. Based in White Plains, N.Y., LSW has established itself as a world-class transportation service providing a fleet of luxury cars, sedans, SUVs, busses, and mini coaches and a global network of more than 550 affiliate providers. Led by CEO Melissa Thornton, LSW is one of the first certified minority- and woman-owned limousine services in Westchester County. The company continues to maintain an impeccable reputation with exceptional service. LSW is located at 10 New King Street, Suite 209, White Plains, N.Y. 10604. For more information or to make a reservation, LSW can be reached at 1-877-878-LIMO and emailed at reservations(at)lswlimo(dot)com.
About Doral Arrowwood
Doral Arrowwood, located just 45 minutes north of Manhattan and five minutes away from the Westchester County Airport, provides both business executives and leisure travelers alike the ultimate in privacy at an unsurpassed location. The property is nestled on 114 wooded acres, surrounded by a magnificent Robert von Hagge designed golf course. Guests can enjoy a wide range of activities including golf, tennis and racket sports. The hotel offers 373 guest rooms (including seven suites), three distinct restaurants, a spectacular indoor-outdoor pool and state-of-the-art sports center with spa services such as massages and facials. The facility boasts 33 custom-built meeting rooms and an elegant 6,500 square foot grand ballroom for corporate and special events. To learn more, visit http://www.DoralArrowwood.com.