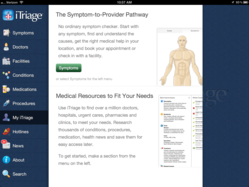 Expanding the availability and functionality of iTriage on the devices that consumers are increasingly using helps more people take control of and conveniently manage their health care decisions
Denver, CO (PRWEB) June 19, 2012
iTriage®, the free mobile health care app that empowers consumers to make better health care decisions and more easily manage their personal health care, today announced the availability of an optimized version for iPad® users. This new version takes full advantage of the iPad's new Retina Display and uses the iPad's larger tablet format, allowing consumers an enhanced experience with:

iTriage's Symptom-to-Provider™ pathway
Symptoms, diseases, procedures and medications research
Comprehensive national medical provider directory
ER Wait Times
ER Check-In™ for hospitals and Early Check-In™ for urgent care clinics
Physician appointments through the iTriage Appointment Setting™ feature
According to eMarketer, by the end of 2012, the number of iPad users in the US will rise by over 90% to a total of 53.2 million. In addition, the iPad will continue to be in the hands of more than three-quarters of all tablet users in the country. Lastly, more than one-third of all US Internet users will have such a device.
"Our vision is to help the world make better health care decisions," explained Peter Hudson, M.D., co-founder and CEO of iTriage, LLC. "Expanding the availability and functionality of iTriage on the devices that consumers are increasingly using helps more people take control of and conveniently manage their health care decisions."
First introduced for the iPhone® in March 2009, the iTriage consumer mobile app has quickly grown to six million downloads. Thousands of medical providers such as hospitals, physicians, and urgent care clinics benefit from the iTriage platform as an effective solution to reach and engage consumers at their time of medical need.
iPad users can easily download iTriage through the iTunes App Store. As a universal app, once downloaded, iTriage is then installed on an individual's iPhone and iPad at the same time (depending on some iOS settings). For more info, please visit http://www.itriagehealth.com/get-mobile.
About iTriage
iTriage LLC, headquartered in Denver, Colorado, is a global health care technology company founded in 2008 by two emergency medicine physicians. The company's market-leading platform and mobile/website applications offer a proprietary Symptom-to-Provider™ pathway that empowers consumers to make better health care decisions. iTriage helps people answer the two most common medical questions: "What could be wrong?" and "Where should I go for treatment?" Millions of consumers around the globe have downloaded the free iTriage mobile app through the iTunes® App store or Android™ Market, or used the iTriage website at http://www.iTriageHealth.com/. In addition, thousands of health care providers already use the iTriage platform to reach more consumers and increase patient engagement.