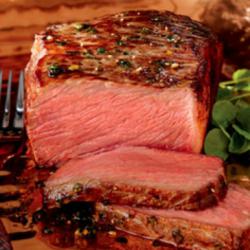 Now everyone who sends customers to Allen Brothers can earn as much as 10% of every order in referral commissions.
Chicago, IL (PRWEB) June 20, 2012
Allen Brothers, a top supplier of prime steaks to the country's leading steakhouses as well as direct-to-consumers via online steaks shop, has joined forces with affiliate management agency AM Navigator to build an affiliate marketing program. The program has launched on June 13, 2012
Now everyone who sends customers to Allen Brothers can earn as much as 10% of every order in referral commissions, and as much as $700 in monthly cash bonuses. Whether it is a banner that you place on your blog, or a referral link that you include in your email to fellow steak-fans, you can now earn real cash every time someone buys through you link.
"We have worked a tiered commission structure, with generous cash bonuses embedded in it as well, to ensure that the harder an affiliate works, the more they earn with Allen Brothers" -- says Geno Prussakov, the Founder and CEO of AM Navigator.
The current affiliate program's commission structure starts at 7%, increasing to 8% with the 5th referral, going up to 9% upon referring 11th customer, and locking at 10% with the 21st sale. Every affiliate who refers 70 orders a month will also receive a $300 cash bonus on top of their 10% commission, while upon reaching 150 sales threshold you get $700 more.
"Affiliate partners joining Allen Brothers steaks campaign will be provided with high-performing creative assets and top-notch support to be successful in our program," says Allen Brothers.
You may join Allen Brothers' affiliate program here and start earning real money from every customer referred.
About Allen Brothers
Established in 1893 in the Union Stockyards meat market of Chicago, Allen Brothers has been providing famous steakhouses all over the U.S. with some of the nation's highest-grade beef for over 100 years. Carefully hand-selected, all the company's beef rates USDA Prime or Choice grade—meaning it's in the top three percent of all graded beef in the country. Renowned restaurants depend on Allen Brothers for flavorful, wet- and dry-aged steaks—and through the company's online shop, individual meat-lovers can as well. Offering a full range of steaks and chops, the company also delivers Heritage-breed veal, first-rate lamb, pork and seafood, as well as hearty sides and indulgent desserts. To learn more about Allen Brothers steaks online, please visit http://www.allenbrothers.com.