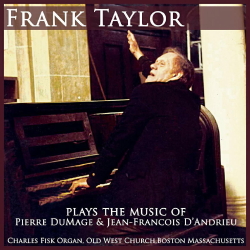 Los Angeles, CA (PRWEB) June 19, 2012
PopFree Records is digitally releasing for the first time renowned organist Frank Taylor's first recording, made in 1975. Titled "Frank Taylor Plays the Music of Pierre DuMage & Jean-Francois D'Andrieu", it will be released on June 19th, 2012 via digital distributor, marketing and promotions company, BFM Digital. The album was recorded on the Charles Fisk organ in the Old West Church of Boston, Massachusetts. This instrument was constructed specifically to replicate the sounds of organs made in the time in which this music was composed, such as the Andreas Silbermann organ at Marmoutier. DuMage and D'Andrieu wrote these works specifically for the instruments of their day, which had very different sound characteristics from more modern organs, so the authenticity of Fisk's organ allowed Taylor to recreate what the composers meant for us to hear.
Taylor, a long time student of Melville Smith, had a passion for French baroque literature, and an enviable keyboard technique coupled with an inherent feeling for the rhythmic flow of music. Smith, a well-known educator, musician and musicologist dedicated much of his music prowess to perfecting the works of late French composer Nicolas DeGringy. Taylor quickly proved to be Smith's star student, and dedicated his talents to interpreting DuMage and D'Andrieu, as Smith did with DeGringy.
French organists Pierre DuMage and Jean-Francois D'Andrieu were contemporaries not only of each other, but also of many luminaries in what was surely a golden era of French organ playing. DuMage was a titular organist for the Cathedral in Lyon for most of his musical career, composing many pieces but leaving only 8 written for his legacy. A recognizable talent from the early age of five, D'Andrieu was honored to play for Louis XIV King of France, and in 1705 was formally installed to the enviable position of organist at the Saint-Merri Church in Paris.
Charles Fisk (1925-1983) founded C.B. Fisk, Inc. in 1961, which went on to become America's leading organ-building company. Fisk also went on to construct the largest four-manual mechanical action organs built in America in the 20th Century – one of which was installed at Harvard University's church in 1967.
"How fitting that this great recording, which sets fort the sounds of an organ made as though for Melville Smith, should be played by his most favored disciple, Frank Taylor, a person of rare musical gift, one in whom Melville Smith's art still lives," said Fisk of the album when it was recorded.
"Frank Taylor Plays the Music of Pierre DuMage & Jean-Francois D'Andrieu" will be digitally available worldwide on June 19th. For more information, please visit: http://www.popfreerecords.com