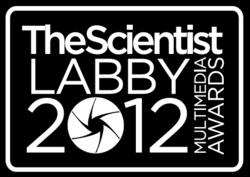 The Scientist magazine is continuing to promote the message of "Exploring Life, Inspiring Innovation" as it proudly announces that the Labbies are back and submissions are currently being accepted.
New York, NY (PRWEB) June 19, 2012
The Scientist magazine is currently accepting submissions for its third annual Labby Multimedia Awards (or Labbies, for short) and is inviting life scientists, teachers, or bio-enthusiasts with a knack for photography or film making to send their best work in by clicking - "Enter The Labbies."
Submissions can span the life sciences, ranging from false-color electron microscopy and vivid immunofluorescence images to flicks of wildlife in action.
The winners will be selected by a panel of judges as well as through an online popular vote at http://www.the-scientist.com, and will be featured in the October issue of The Scientist.
All videos must be 10 minutes or less, and all entries must relate to the life sciences. Entries will be judged on scientific content, concept/originality, entertainment value, and production quality. No entries created with funding from a corporation will be accepted.
For additional information on the Labby Multimedia Awards visit http://www.the-scientist.com and for any questions contact The Scientist at labbies(at)the-scientist(dot)com.
Deadline for submissions: July 20, 2012
ABOUT THE SCIENTIST
The Scientist has informed and entertained life science professionals around the world for more than 25 years. We provide print and online coverage of the latest developments in the life sciences including trends in research, new technology, news, business and careers. We reach the leaders in academia and industry that are interested in maintaining a broad view of the life sciences by reading insightful articles that are current, concise and entertaining.
END
###