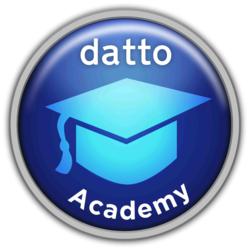 "...Since completing the training seminar I haven't opened a single ticket with Datto support!" - Kevin Danis of Remote Technology Management, LLC
Norwalk, CT (PRWEB) June 19, 2012
Datto Inc., an award-winning provider of hardware based on-site and off-site backup, disaster recovery and business continuity solutions is pleased to announce the launch of 'Datto Academy'. This training program will consist of both technical online tutorials and on-site training seminars that will be available to all Datto Partners.
Datto Academy's online training program is free of cost to all Datto Partners and directly ties into Datto's Partner Portal. Online training modules cover device setup, configuration and support for Tier 1 issues. Interactive training modules contain 'how-to' videos, detailed tutorials and quizzes for gauging competency. There is no limit on this training, so Partners can go back and review materials as often as necessary.
Datto Academy's on-site training program is a two-day seminar that covers advanced, Tier 2 topics that include, learning how to run device level commands and more advanced troubleshooting topics and scenarios.
Datto Academy Training Seminars are designed for technicians and engineers that install, service or monitor Datto SIRIS units and would like to enhance their troubleshooting experience and abilities. Seating is limited and is assigned on a first come, first serve basis.
Kevin Danis of Remote Technology Management, LLC recently completed a training seminar and summed up his experience, "Datto Academy hosted a great training seminar. I learned how to troubleshoot certain scenarios and gained a much better understanding of the SIRIS device. Since completing the training seminar I haven't opened a single ticket with Datto support!"
To register for a Training Seminar, Datto Partners should reach out to their Sales Executive or visit: http://www.dattobackup.com/seminar-registration.
"The Datto Academy is essential for our Partners because it will provide them with the tools they need to fix and maintain the devices they sell. The training will help them provide predictable and impressive SLAs to their respective clients," said Ian McChord, Datto Product Manager.
Datto is also offering an optional Private Cloud Training that will occur after the second day of the Training Seminar is completed. Datto encourages Partners that are planning to implement a Private Cloud solution attend this session and learn the necessary steps and best practices to ensure smooth a deployment of the solution.
To learn more about Datto Academy, please visit: http://www.dattobackup.com/academy
About Datto Inc.
Datto Inc. is a leading provider of hardware based on-site and off-site backup and disaster recovery solutions. Founded in 2007, Datto is a profitable and growing channel-only company changing the way MSPs and VARs deliver complete business continuity. Datto's offerings range from small data storage systems to large, enterprise-class business continuity solutions. Easy and affordable pricing, no recovery or incidental fees, generous upgrade plans and US-based technical support are just a few ways Datto is changing the channel. To learn more about Datto, visit http://www.dattobackup.com and follow us on Facebook, Twitter and our Blog.
Becoming a Datto partner is easy and free. Simply visit the partner page of the website at http://www.dattobackup.com/partners/join and fill out a resale partner form to get started today.