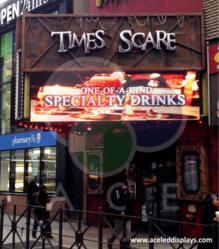 ACE LED Displays believes American quality and support will succeed again in this industry as well as in the entire US economy.
(PRWEB) June 20, 2012
Started in 2011, ACE saw the demand for American built quality LED signs and support and is looking to make a difference in the consumer experience. ACE, American Crafted Electronics, offers superior American built high quality LED signs coupled with a full service sign company & media content support.
"Many clients started their conversation by first asking, 'Where are your LED signs built?' and, 'Who do I call for support?' Once we explained that our facility is located in CA, and that we have a rep in the factory overseeing production and support, our clients were at ease." says Brian, Sales Manager at ACE.
The LED market is being saturated by China built and imported displays. Many of the LED displays are poorly built, do not meet electrical code and come with little to no support or warranty. Brian states, "China built LED signs are easily being imported into the US and with no import tax. This provides a low cost option to consumers, but they don't realize the low quality, lack of warranty and support until it's too late."
ACE LED Displays believes American quality and support will succeed again in this industry as well as in the entire US economy. "They're a company striving to make a difference, and hopefully, that will fuel another company and so on." states Paul Martin, Director of Marketing at Vantage LED (US Manufacturer supporting ACE).
ACE seeks to earn their clients' business through three conducts of business: Education, Communication, and Retention.
Education.
ACE LED Displays strives to earn their business from an informed client through educating them about the aspects of LED Sign. They find clients feel better about their investment in digital advertising and the company they choose as their digital display partner.
Communication.
For many clients, digital advertising is a serious investment in their business. At ACE, they believe it is a serious investment for all our clients. Therefore, it is critical that every client is updated frequently regarding the status of their project from the design stage throughout production and installation. Their Project Management Team will bring the client's new advertising LED display from sale through to final completion, training, and operation coordinating all the necessary trades with ACE being their only contact.
Retention.
Success in this industry comes from satisfied clients that are utilizing their digital advertising LED display to its full effective and dynamic potential. ACE nourishes this relationship to follow up with clients to ensure their display is not only maintained and operating efficiently, but has current and fresh content for their audience.
Visit ACE LED Displays today online at: http://www.aceleddisplays.com. American built LED displays with American based proactive support.