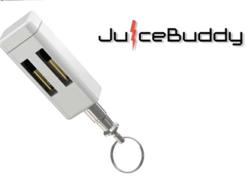 The JuiceBuddy is the Worlds smallest and most portable iPhone charger, about the size of a USB drive.
Santa Barbara CA (PRWEB) June 19, 2012
A California company has introduced a breakthrough product, an iPhone charger that is small enough to fit on a key chain or to be dropped in a pocket.
The cordless JuiceBuddy is about the size of a flash drive, features fold-out prongs, a 30 pin connector, a USB port and a key chain attachment. Simply remove the keychain attachment, and a USB 2.0 port is revealed for charging all of your devices.
Zack Cram, the marketing manager for Pacific Productions, said the initial response to the product has been outstanding. "The JuiceBuddy provides the convenience of always having a charger with you, without having to rely on a cord. All you need is an outlet"
The patent pending JuiceBuddy is constructed of high-grade polycarbonate and is available in White, black, red and polished aluminum.
The JuiceBuddy will retail for $30 but is being introduced at http://www.thejuicebuddy.com for $25 with free shipping.