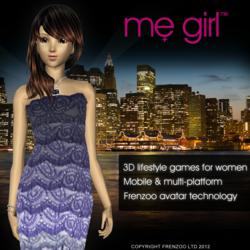 "The minute I started playing I knew it was different from the rest. Beautiful fashions, lifelike poses and engaging characters...I just love it!"
Hong Kong and San Francisco, CA (PRWEB) June 19, 2012
Mobile gaming just got a whole lot more glamorous. Frenzoo (http://www.frenzoo.com), pioneers of a new class of 3D lifestyle games, today announced the release of Style Me Girl, the world's first 3D fashion game for mobile devices. Available for free in the Apple App Store, Google Play Market and Amazon Marketplace, Style Me Girl has been downloaded more than 1 million times and reached #1 in the iTunes App Store for free Role Playing Games as well as #1 for all free games in the Amazon Marketplace.
Style Me Girl invites players to rise through the ranks of the glamorous and seductive New York fashion scene. Starting as an intern at the hottest style magazine in town, you can climb the industry ladder by helping models look their best and then stepping behind the camera to capture the perfect pose. Doing so will lead to high marks from the judges and career advancement as a celebrity stylist in the high-stakes fashion world.
Frenzoo's innovative 3D avatar platform was used to give the models realistic body movements and engaging facial expressions, both of which add to the allure of the game and play pivotal roles in its "photoshoots." Players around the world have already styled over 12 million different looks in the days since release.
"Style Me Girl is the first of its kind," said Simon Newstead, co-founder and CEO of Frenzoo. "It's a 3D Role Playing Game created for any woman who has dreamed of becoming a fashion and style icon. The game itself is lots of fun and features unique gameplay, intriguing storylines, and a cast of iconic characters, but it is our 3D technology that makes the whole experience so engaging."
As you embark on your quest to become the stylist to the stars, there are several gameplay features to help you progress along the way, such as:

Photoshoots: After taking your models shopping and dressing them for the given theme, begin the photoshoot and start taking pictures; you'll be judged based on the outfit and poses, then awarded coins and bonuses according to your score.
Models: Unlock an array of increasingly sophisticated and stunningly beautiful models, helping them pick out the perfect outfit and hairstyle, apply the perfect makeup, and accessorize and strike the perfect pose.
Over 30 Fashion Genres: From casual to couture, gothic to glam, pick and choose which style to dress your models in, but make sure to pick the right style for each occasion if you want to impress the judges.
Boutique: Enter the boutique to shop for clothes, accessories, hairstyles, makeup, jewelry and more, trying them on your model to see how they look before buying them.
"Style Catch" Game: Play this mini-game within the game and earn extra coins by tilting your phone to catch designated items in your shopping bag as they fall; just don't catch the cash register before you're ready to checkout!
"Look Book": Take photos of various models striking a number of different poses in front of a variety of backgrounds and then post them to your "Look Book;" photos can then be shared with friends or saved to your device.
"The world of fashion is full of glitz and glamour, but there's a lot of work behind the scenes most people don't see," said fashion stylist Jasmine Webster, founder of the popular DressMe blog and an advisor to Frenzoo. "Style Me Girl provides players with a behind-the-scenes look and lets them imagine what it's like to work their way up to become a celebrity stylist. We are thrilled by the tremendous support the game has received so far."
Initial user feedback to Style Me Girl has been extremely positive, with the app receiving a 4.5 star rating in all three markets. Said player Jasmine Chua: "The minute I started playing I knew it was different from the rest. Beautiful fashions, lifelike poses and engaging characters...I just love it!"
Style Me Girl is the first in a series of 3D lifestyle games by Frenzoo and is free to play now at:
http://itunes.apple.com/app/id521514229?mt=8

http://www.amazon.com/Frenzoo-Style-Me-Girl/dp/B00846GKTW
To view the Style Me Girl trailer, visit http://www.youtube.com/watch?v=gjCLhfM98OQ. Follow Me Girl on Twitter at https://twitter.com/megirl and Like it on Facebook at https://www.facebook.com/MeGirlGames. For game logo, screenshots or more information see http://blog.frenzoo.com/post/23757934059/press-materials.
About Frenzoo
Frenzoo is a startup creating a new class of 3D lifestyle and fashion games for women. The company's offerings, including the popular Me Girl series of mobile games, are based on its flexible and innovative avatar technology platform. Backed by Ambient Sound Investments, an early stage venture firm supported by the founding engineers of Skype, as well as Siemer Ventures, K5 Ventures, Metaverse Services and others, Frenzoo is based in Hong Kong, China, and San Francisco, California. For more information, visit http://www.frenzoo.com and http://www.megirl.com.
# # #
Media Contact
Matt McAllister
Fluid PR & Communications
(510) 229-9707
matt(at)fluidspeak.com
@FluidSpeak
Company Contact
Simon Newstead
Frenzoo
(415) 562-6889
simon(at)frenzoo.com
@simonhk