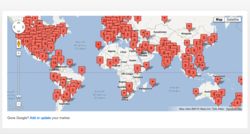 "There can sometimes be inertia against doing things in a different way. In this case, we were pleased that the pace of our move to Google was driven strongly by our fee-paying customers – the students," Phil Richards, IT Director, Loughborough University
UK - (PRWEB UK) 21 June 2012
London: Google Apps for Education is a free suite of hosted email and collaboration applications exclusively for schools and universities. Google Apps for Education, which includes the core Google Docs suite in addition to the other core products is highly interactive and positively encourages collaboration.
The benefits of an education institution Going Google are numerous; some of the most important ones include the ability for both students and staff to access emails and files from home and at work. This, in theory could eliminate the need for memory sticks, lost work and so forth. It can also be used to enhance communication between staff and students whilst providing an instant and reliable file back up system in the cloud. Google Apps can be managed the way you want and has countless opportunities to enhance teaching and learning in the classroom.
More than 16 million staff and students have migrated to Google Apps for Education, a few institutions being Loughborough University, Cambridge University and the British School of Kuwait with over 12,000 users.
Robert Hulme, Students Union President at Loughborough University recently talked about the university's experience with Google Apps. "The feedback from the Google pilot [of 300 students] was hugely positive, and it was clear that Google Apps would be a huge success with students." Phil Richards, Director of IT, notes, "In any organisation, there can sometimes be inertia against doing things in a different way. In this case, we were pleased that the pace of our move to Google was driven strongly by our fee-paying customers – the students. Strong involvement of students, right at the centre of this project, was the key to moving this work forward quickly and successfully." Aside from saving £250 000 on server hardware, cooling and power over refreshing the old in-house email system, Loughborough University also benefited from converting student's accounts into an alumni account upon graduation. This enabled over 5000 students to retain data on leaving the institution since its inception.
Google Apps for Education is a global movement. Pt England School in Auckland, New Zealand, a school in an impoverished area is a government priority for improving achievement levels. The School recently migrated to Google Apps for Education and saw the benefits it made to students immediately. "Using Google Apps and other tools, we sought to create confident and informed digital citizens. While we quickly noticed increased student engagement, teachers felt that there was still a missing piece. Enter the Teacher Dashboard, an add-on from the Google Apps Marketplace that allowed teachers to get a bird's-eye view of classroom activity across Docs, Sites and Gmail," says Dorothy Burt, professional development leader at Pt England School. "They [students] have a renewed sense of pride because their test scores improved. The teachers also feel a renewed sense of engagement with their classrooms since they can centrally track and monitor student progress via the Teacher Dashboard."
The parent organisation to five of the most prestigious educational institutions, British School of Kuwait has chosen AppsCare, Google Enterprise Premier Partner to deliver Google Apps for Education to it's 12,000 education users across the country. AppsCare's team of Google certified engineers and change management department have a proven track record of both overseas deployment and experience with a wide range of educational establishments.
About AppsCare:
AppsCare® (powered by Netpremacy Global Services) is a world leader in cloud services provisions, supporting over 2500 customers in 33 countries. Their fortnightly newsletter provides latest industry news, tips and 'how to' features and useful information about cloud computing, to subscribe to their mailing list click here.