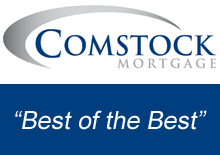 "Our promise at Comstock Mortgage is not just to provide quality service to our clients. It is to reinvest in the people and places that make our community a special place to live." Troy Bird, shareholder at Comstock Mortgage
Sacramento, CA (PRWEB) June 20, 2012
Comstock Mortgage is thrilled to announce support for the Sacramento Capitals World Team Tennis as a sponsor for the upcoming 2012 season. The Sacramento Capitals - http://www.saccaps.com - have been a part of the neighborhood for 27 years. Like the Sacramento Capitals, Comstock Mortgage takes pride in their support of the local community, making the sponsorship an excellent fit for both. The season begins July 12th and runs through July 28th. Comstock Mortgage looks forward to participating in the festivities and fun this year at the Sacramento Capitals!
In addition to this year's sponsorship of the Sacramento Capitals, Comstock Mortgage is a loyal supporter of the Three Stages in Folsom and enjoys finding diverse ways to reach out to the community through various venues.
"Our promise at Comstock Mortgage is not just to provide quality service to our clients. It is to reinvest in the people and places that make our community a special place to live." said Troy Bird, shareholder at Comstock Mortgage.
Comstock Mortgage is a California Department of Real Estate (DRE) licensed broker with more than 20 years experience in all areas of home loan financing as both a Mortgage Banker and Mortgage Broker. California DRE #01390474 DOC #6073484 NMLS #165193