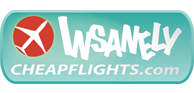 (PRWEB) June 19, 2012
Just in time for travelers making last minute plans for summer, InsanelyCheapFlights.com has released its top 5 tips for finding cheap tickets to their destination of choice. Since 2009, the site's focus has been matching flyers with cheap airfare, and its CEO, Steve Oliverez, has several insights to share about how to get cheap flights
1. Book early - but not too early. While great deals can sometimes be found at the last minute, ticket prices generally go up two weeks before departure. "If you really have to get to your destination, you'll have no choice but to pay the higher price," says Oliverez. Book too early though, and flyers run the risk of a price drop and being stuck with a more expensive ticket.
2. Check multiple airports. For travelers fortunate enough to live in an area served by more than one airport, the difference in the price of an airline ticket could be hundreds of dollars depending on which airport they depart from. For instance, travelers living in the Washington, D.C. area may find cheaper flights leaving out of Dulles International (IAD) or BWI if they're willing to put in some driving time.
3. Travel light. "If you're taking a flight to Las Vegas for the weekend and can fit your clothes into a single carry-on, you can save $20 or more on fees for checked luggage," says Oliverez. While that's not an option for every trip, it not only saves money, but skipping the bag check and the luggage carousel saves a significant amount of time at the airport.
4. Book flights and hotel rooms together. While travel sites constantly remind users that this is a great way to save money, it is often overlooked. "If you're flexible on your hotel choice, this may be the best way to save money," says Oliverez. "If you're renting a car, there are packages to save you money there, as well."
5. Get a discount. Travel websites often offer online coupons or promotional codes for specific dates or flight routes, which can easily be found by using any major search engine. InsanelyCheapFlights.com currently offers a promotional code on its homepage good for up to $20 off flight bookings. The discount applies to service fees only.