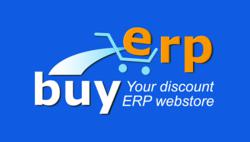 This special offer has given companies all over the world the opportunity to acquire a robust financial software system for their business at a fraction of the actual cost
Los Angeles, CA (PRWEB) June 19, 2012
BuyERP.com is the only website online where customers can purchase Microsoft's full line of Microsoft Dynamics products. This line of ERP software gives every type of business the ability to streamline their operations and financials to keep the company growing while saving money. BuyERP can also boast that they are the only ecommerce site in the world that can bring Microsoft Dynamics ERP products to their customers anywhere through a simple buying process, where customers receive their licenses in less than 48 hours!
BuyERP first made Microsoft's 'Give Me 5' promotion available on October 1, 2011 and is now ending this Thursday June 22nd, 2012! This offer is available for Microsoft Dynamics GP (formally Great Plains), Dynamics Navision(NAV) and Dynamics Solomon(SL) products where customers can buy 5 user licenses for $3,000. Those customers looking at either Business Essentials or Advanced Management will be able to take advantage of the offer as it applies to both Suites, giving them an array of functionality.
Customers wanting to purchase the Business Essentials Suite (BE) are looking at saving $8,250 from the regular list price. Customers wanting to purchase the Advanced Management Suite (AM) will save $16,900 off regular prices by taking advantage of this promotion.
"Microsoft's Give Me Five Deal has been overwhelmingly popular with businesses all over the world looking for a new ERP software system" says Marketing Manager Brett Hensley. "This special offer has given companies the opportunity to acquire a robust financial software system for their business at a fraction of the actual cost. Consumers can't find a better deal than anywhere else in the world right now, so if you are in the market for a new ERP system, I would HIGHLY advise to talk to one of our representatives ASAP."
This promotion targets small to medium sized businesses that wish to take advantage of the rich functionality, low cost of ownership, and rapid deployability offered by Microsoft Dynamics GP, Microsoft Dynamics NAV and Microsoft Dynamics SL.
The 'Give Me 5' promotion is available worldwide (excluding some restricted countries). Although BuyERP.com shows the USD pricing of the product lines, International pricing is available via email, chat or even a quick phone call. BuyERP is happy to provide quotes and sell to any country worldwide!
Special offers like the Give Me Five Deal don't come around very often, so secure this deal before it's gone. Only 3 days left!!! Visit http://www.buyerp.com or call 1-888-377-3955 now!
About Us
BuyERP is the first ecommerce site to allow customers to purchase Microsoft Accounting software and more in minutes.
BuyERP currently offers Microsoft Dynamics GP, Dynamics NAV, Dynamics CRM and various independent Software Vendors (ISV's) at very competitive prices. During these tough economic times, business software is more important than ever. BuyERP knows there is value to software and have found a way to offer it to you at price our customers can afford.
In addition to providing customers with Microsoft software at a very competitive price, BuyERP's goal is to also provide them with resources for implementation services and ongoing support.