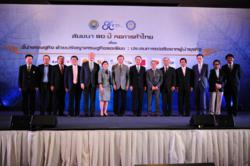 Thai business leaders share their experiences in implementing sufficiency economy philosophies and how this philosophy helps their businesses.
(PRWEB) June 19, 2012
The Thai Chamber of Commerce (TCC) recently celebrated its 80th anniversary by presenting a seminar on "Directing Business by Sufficiency Economy Philosophy: Business Leaders' Experience."
At the seminar, Thailand's most important business leaders detailed their successful experiences with "Sufficiency Economy." These leaders are the primary sponsors of TCCEXPO 2012.

Mr. Isara Vongkusolkit, Chairman of Mitr Phol Sugar Corp., Ltd.
Mr. Boonchai Chokwatana, Chairman of Saha Pathanapibul PLC
Mr. Kan Takulhoon, President and CEO of Siam Cement Plc. (SCG)
Mr. Thawin Wongwanit, President and CEO of PTT Exploration and Production PLC
Mr. Sara Lamsam, President and CEO of Muang Thai Life Assurance Co., Ltd.
Mr. Teeraphong Chansiri, Chairman of Thai Union Frozen Products Co., Ltd. (TUF)
Mr. Thapana Siriwattanapakdee, Chairman and CEO of Thai Beverage PLC (THAIBEV)
The upcoming TCC Expo 2012 places strong emphasis on business growth that can be sustained within our natural environment. Thai Business Leaders all agree we must generate businesses that use earth's resources in a sensible manner, utilizing business byproducts for other industries or returning them to the earth. Self-sufficiency is crucial in creating national immunity in an increasingly volatile global climate.
Thailand has the intelligence, the creativity and the compassion to devise innovative strategies that utilize business byproducts for other industries or for generating power. Thailand must look to its own resources in creating self-sufficient technology and infrastructures that create invulnerability from the growing chaos abroad.
The Thai Chamber of Commerce (TCC) is Thailand's leading non-profit organization promoting Thai business and manufacturing companies. TCC helps businesses facing the challenges of foreign markets and reinforces their competitive edge. TCC acts to promote Thai trade throughout the global economy.
TCC will hold TCC Expo 2012"the Best of Siam" to celebrate its 80th Anniversary
TCC Expo 2012 is expected to attract more than 1,000 exhibitors and over half a million trade and public visitors! TCC Expo 2012 warmly welcomes professionals from home and abroad. If you wish to expand cooperation, seek business opportunities and share cutting-edge technology and products, TCC Expo 2012 trade fair is the Place to Be!
If you are interested in joining TCC Expo 2012, please fill out the form http://www.tccexpo.com/form/enq and our customer service representative will contact you immediately.