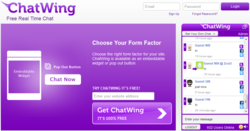 Omaha, NE (PRWEB) June 19, 2012
Lately, the niche of travel blogging has received massive spikes of popularity from different parts of the world. This is based on the collective data retrieved by blogging professionals in the cyberspace. From this fact, the Chatwing team has stepped up by creating a simple chat widget for travel bloggers. The Chatwing chat tool has been making a name in the blogosphere already, spanning various topics such as blogging tips, blog templates, gaming, health, current events, and even fashion trends.
Simplicity belongs to the cadre of Chatwing's core features. The Chatwing team believes that a lot of users don't have time to tinker with complicated commands and in this case, simplicity plays a major role. The Chatwing shoutbox is, somehow, based on the plug and play concept. After a quick installation, the user can start chatting right away. Now, the blogger will have an opportunity to connect with his blog visitors. This is essential for travel bloggers because they can relay proper information without wasting the time of their clients.
The Chatwing chatrooms team has almost struggled in their marketing process during the early release of the shout box. After several tweaks with the platform, the team has managed to achieve connection stability. They even included a handy social media integration feature, so that users will now have the chance to expand their networks. Installation of the Chatwing widget takes only a few seconds and users can select from a wide array of colors and sizes. The title of the widget can also be renamed so that it will be synchronized with the blog's theme.
To ensure that their users will have a rewarding chatting experience, the Chatwing team continues to make upgrades and maintenance. Prolonged maintenance will prevent future technical glitches and will make the flow of communication smooth. This will make Chatwing a great chat box alternative for many bloggers.
About Chatwing.com
Chatwing.com has developed live chat software for websites and blogs. It caters to different online communities due to its high rate of connectivity. Everyone can create a customizable live chat box feature in 1 minute or less. Users have the ability to customize the size, color, and fonts of the chat product. The ability to chat via social media accounts such as Facebook and Twitter enable Chatwing to offer a personal and unique real-time experience to all sites. Chatwing is 100% free and very easy to use.