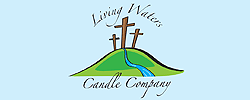 Family owned and operated, God centered - Christ inspired candle company proudly serving Triad of NC and surrounding areas.
Greensboro, NC (PRWEB) June 19, 2012
The Living Waters Candle Company in Greensboro, NC, was founded in February 2012, but this family-owned and operated local business isn't new to the art of custom candle making. Their business model, based in Christian inspiration and faith, seeks to provide customers with a message of God's love through their made to order scented candles. Their candles are hand-poured, made with unique and delicious scents, and always homemade.
The products at Living Waters Candles are poured from premium Paraffin/Soy blended wax, and customers can choose from over fifty strong and counting, high-quality scents. The business strives to use at least twice the quantity of scented oil in their candles as mass-market manufacturers, infusing their products with a significantly higher scent throw. They also offer a variety of colors and scents, allowing customers to choose a style that suits them personally.
In addition to traditional scents like lilac, sage and citrus, Living Waters Candles also crafts candles with more unusual aromas. Using scents like cupcake, black raspberry vanilla, and café au lait, the shop hopes to suit the tastes of every customer looking for soothing and delicious smells alike. Since their business is family-owned, their large catalog of scents is always growing, and some might be hard to find anywhere else.
The business also offers discounts on large orders, and to fundraising organizations utilizing their services for charitable causes. Living Waters Candles' custom candles can be made to order for any event or fundraiser. The company seeks to serve charitable causes in the NC Triad area as a witness for their Christian faith.
Living Waters Candles is dedicated to the experience of the individual customer above all else, and hopes to show the love and care of faith through their product. Customers are invited to stop by the website, or call to experience their variety of unique scents, and the business strives to answer every question about the custom order process. At all times, the goal of Living Waters Candles is to treat each customer with the quality and respect they deserve.
About the company:
Living Waters Candle Company is a family owned and operated, God centered - Christ inspired company which takes pride in providing its customers with custom made candles that holds a wide variety of unique scents. They proudly serves the Triad of NC and surrounding areas, and now offering shipping (standard shipping charges apply). Living Waters Candle Company is a family owned and operated business that understands the importance of treating its customers with the quality and care that they all deserve. They provide custom homemade candles and each candle is made to order. For more information visit their website at http://www.livingwaterscandlecompanygso.com, or give them a call at 336-358-7662 or 336-623-3339.