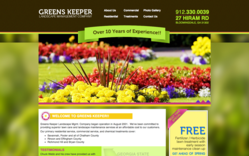 Savannah, GA (PRWEB) June 19, 2012
eMarketSouth, a local website design and branding company, has released Greens Keeper Landscape Management Company's website and is proud to add it to their ever growing portfolio of work.
Between the hard work of the staff at eMarketSouth and Chuck Webb, owner of Greens Keeper LMC, this website brought together a beautiful design with superior functionality. The content is managed through ExpressionEngine Content Management System, which gives Chuck the full control over the content of his website in an easy to use format. Users to the site will be able to learn about Greens Keeper and their services offered.
Greens Keeper LMC is a landscape management company that proudly serves Savannah, Pooler, and the entire Chatham, Effingham, and Bryan county region. Services provided include residential lawn care, commercial lawn care, chemical treatments and even lawn replacement with artificial field turf.
You can view their new website at: http://www.greenskeepersav.com.
eMarketSouth is a web development and branding company that serves the internet marketing needs of not only the Savannah, GA market but also clients nationally. Their strategy is simple: provide our clients with the tools they need to build their business locally and globally. Need a new website or advice on your existing one? Contact eMarketSouth at: http://emarketsouth.com/contact/ or call (912) 356-1140.