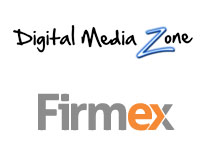 Secure file sharing is an integral element for any startup company, and the addition of Firmex's virtual data rooms will contribute to our teams' success.
Toronto, ON (PRWEB) June 20, 2012
Virtual data room provider Firmex is helping to cultivate the next generation of entrepreneurs by partnering with Ryerson's Digital Media Zone (DMZ) in Toronto. Firmex will provide virtual data rooms to the DMZ's community of startup companies to store and share confidential files online. With the addition of these virtual data rooms, DMZ entrepreneurs can more efficiently and transparently handle sensitive documents, facilitating a number of business transactions ranging from raising capital to investor reporting.
"We are very pleased to offer this powerful software tool to our DMZ entrepreneurs," said Valerie Fox, Executive Director of Ryerson Digital Media Zone. "Secure file sharing is an integral element for any startup company, and the addition of Firmex's virtual data rooms will contribute to our teams' success."
Firmex, a software company also based in Toronto, is a cloud-based provider of secure document sharing services. Virtual data rooms differ from other cloud-based document sharing services by providing stringent document-level security, such as encryption and digital rights management. Virtual data rooms are well-suited for processes that need to share large amounts of confidential documents, in a limited timeframe, with individuals that sit outside the corporate firewall, including M&A deals, financial audits, fundraising and investor reporting.
"We are extremely proud to be working with the Digital Media Zone and supporting the next wave of entrepreneurial talent," remarked Joel Lessem, CEO of Firmex. "Our virtual data rooms help facilitate thousands of corporate transactions every year, so the startups in the DMZ are getting exposure to the most up-to-date and relevant business tools available."
In addition to providing virtual data rooms to the DMZ, Firmex is also actively engaged with the DMZ community. Last week Joel Lessem was a key-note speaker at the DMZ's monthly CEO Society event, hosted by StartMeUp, a student-run business development organization. Drawing upon his own experiences as CEO of Firmex, Joel shared his knowledge on building a successful software company and raising capital with the DMZ's young entrepreneurs.
About the DMZ:
Launched in April 2010, Ryerson University's Digital Media Zone is a multidisciplinary workspace for young entrepreneurs infused with the energy and resources of downtown Toronto. Set atop Yonge-Dundas Square, this hub of digital media innovation, collaboration and commercialization is home to both entrepreneurial startups and industry solution-providers. With access to overhead and business services, students and alumni can fast-track their product launches, stimulating Canada's emerging digital economy through spending and job creation. Since its launch, the Digital Media Zone has incubated and accelerated 45 companies to launch more than 88 projects. Currently the Zone houses 184 innovators in 45 teams. For more information on the Zone, visit http://www.ryerson.ca/dmz.
About Firmex
Intuitive, affordable, pervasive – thousands of companies choose Firmex Virtual Data Room (VDR) solutions to securely share their highly confidential documents. Leaders in corporate and financial transactions, M&A, compliance, litigation, and procurement value Firmex's ease of use and outstanding support to profitably accelerate their online document sharing and collaboration projects. To learn more about Firmex Virtual Data Rooms watch this video or visit http://www.firmex.com.