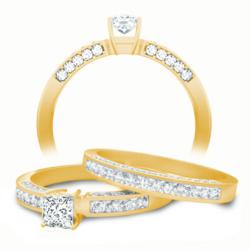 Pear Shaped Engagement Rings would be available on JewelOcean at affordable and cheap prices, as this represents the company's policy of providing diamond engagement rings at discount prices.
Baltimore, MD (PRWEB) June 20, 2012
Pear shaped diamonds have been used for making engagement rings for over a century. However, their use in commercial jewelry was very limited, as in the earlier period, pear shaped diamonds were mainly used in making antique engagement rings which basically meant very high end designer jewelry. This made pear shaped engagement rings very expensive, and it put them out of reach of most women. However with the growing demand of pear shaped diamonds, they have become more affordable. JewelOcean would now provide pear shaped engagement rings at affordable prices to the customers through its new engagement ring collection. The pear diamond rings collection will be offered to the customers from 24tH June onwards.
Pear diamonds are one of the unique fancy cuts.. Due to their unique shape, they are also known as tear drop diamonds. Owing to their cut and symmetry, women are especially attracted to pear shaped diamonds. The new JewelOcean collection of pear shaped diamond rings would provide unique engagement ring designs which would be set with pear diamonds. Customers would be able to choose between various carat weights of pear diamonds, starting from ¼ carat, 1/3 carat, ½ carat, ¾ carat and 1 carat. The collection would also feature Gia certified pear diamonds, which would be available in better diamond clarity and color. These Gia certified pear shaped diamonds would especially appeal to those customers who are looking for the best diamond quality.
The collection would also feature pear shaped wedding sets and bridal sets. However due to unique shape of pear diamonds, the pear wedding sets would be available only in limited designs. Customers would be able to customize their pear engagement rings on different gold karat also. Customers would be able to choose from 10k Gold, 14k Gold and 18k Gold. JewelOcean would provide all major Gold color options such as white gold, yellow gold and even Rose gold. Therefore customers can even customize their pear engagement rings with rose gold option, in the new JewelOcean collection.
JewelOcean has always focused on providing engagement rings at cheap and affordable prices to its customers. The company is now diversifying its product offerings with more fancy cut diamond shapes, and the new pear shaped diamond engagement rings collection is an example for the same. Customers would always find great customer service, and friendly customer policies besides discount prices on engagement rings at JewelOcean. For more information on the new pear shaped engagement rings collection, please visit http://www.JewelOcean.com