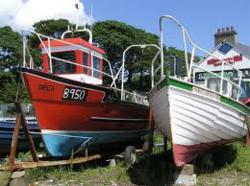 "This was one example of what happens when boat owners and auto repair shops fail to check whether they're covered by insurance for repairs done outside a marina," says Robert Mucci of Wolpert Insurance Agency.
Worcester, MA (PRWEB) June 21, 2012
June 20th marks the start of summer, and boat owners everywhere are making sure their favorite mode of marine transportation is in top condition. Since many boats have an automotive-type engine, it would seem to make sense to have it repaired at an auto repair shop that services automotive engines. But will repairs be covered by their garage insurance? According to Wolpert Insurance Agency, this is the most frequently asked question they receive in the early summer months.
Such was the case of am individual who owned an inboard-outboard boat and wasn't happy with the engine work being done by his boat dealer. The client chose instead to have his boat tuned up by his local auto service station who had done great work previously on his cars.
Shortly after the boat tune-up was completed, the client took his boat out and upon returning to the docking area, the boat slowed and the area where the inboard-outboard driving mechanism was located sank into the water. According to the repair shop, the seals around the mechanism had been damaged due to oil spill at the garage and were unable to keep water out of the boat. When the garage owner found out his coverage didn't include repairs to boats, he alone was liable for the boat's damage.
"This was one example of what happens when boat owners and auto repair shops fail to check whether they're covered by insurance for repairs done outside a marina," says Robert Mucci of Wolpert Insurance Agency. "He wasn't the first, nor will he be the last."
In the summer months where boat usage is heavy and the Marina operations are at their peak, it is not uncommon for garages to repair boat engines or fix fiberglass hulls, according to Wolpert Insurance. But most Garage Keeper's Liability coverage states, "We will pay all sums the insured legally must pay as damages for 'loss' to a 'customer's auto'…left in the insured's care…"
Wolpert Insurance warns boat and garage owners that at no time does the word "boat" appear, nor ATV, snowmobile, small aircraft or futuristic jet-pack for that matter. Because the words "customers auto" and "garage operations" appear in quotations within the policy, this means the terms are defined within the policy itself and are not left to the reader's interpretations.
According to Wolpert Insurance, "customer's auto" means a customer's land motor vehicle, trailer or semitrailer left for service, repair, storage, parking or safekeeping. By including the word "land," it eliminates performing services to boats or aircraft.
"Garage owners need to understand those two definitions before the next time a customer wants to back their 39-ft Boston Whaler Conquest into their garage for needed repairs," says Mucci.
Although the language appears to be crystal-clear, it is still not uncommon to see service stations, body shops, used car lots and even franchise dealerships with one or more boats on the premise. Especially near the ocean or where there are large bodies of water, according to Wolpert Insurance.
"We often hear people say their insurance agent is in here all the time and sees the boats so it's his job to be sure that I have boat coverage," says Mucci. "But let me put it to you in simpler terms; if something is sitting in your garage and needs repair – and it will float if you stick it in the water – don't fix it until you talk with an insurance specialist," says Mucci as advice to all his clients who seek advising.
Insurance coverage is written for a reason and more often than not, the language is clear. If boat owners in the Massachusetts area are unsure of whether their garage covers boat repairs, call Wolpert Insurance Agency to make sure before it's too late.
About Wolpert Insurance Agency, Inc.
Wolpert Insurance Agency, Inc. was established in 1956 and has had over 50 years experience within the insurance industry. Wolpert Insurance currently represents the insurance needs for thousands of businesses and families throughout Massachusetts including the local areas of Worcester and Easton. Their commitment to developing the right relationships with the right carriers ensures their clients receive the most competitive pricing and comprehensive coverage available. It is Wolpert Insurance Agency's pleasure to protect their clients with both personal and business insurance coverage they can depend on.